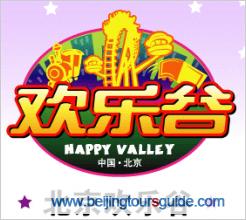 The ticket price to Beijing Happy Valley will be reduced to 140 yuan per person during the winter (from Dec 1st, 2010 to Mar 15th, 2011) and the open hours is 10 am to 5.30 pm.

It is reported that some activities, mainly those related to water, will be suspended during the winter because of the low temperatures and strong winds.

Many activities with the theme of Christmas and the Spring Festival will be held in the amusement park.

Located in the southeast corner of Sifang Bridge, on the fourth ring road, in Chaoyang District in Beijing, Beijing Happy Valley is l is another Disneyland in Mainland China, and also featured distinctive landscapes and themes throughout the resort along with featured rides within the different themes, which is composed of six theme parks, including Firth Forest, Atlantis, Aegean Sea, Lost Maya, Shangri-La and Ant Kingdom.

It has attracted more and more tourists home and abroad since its open to the public in July 2006.

Happy Valley is the Biggest, and best-themed amusement park in Beijing.
Editor: Susan
Date: Dec 2, 2010
Prev:
China Pavilion of Shanghai Expo's to Reopen on Dec 1
Next:
Bird's Nest Snow Season to Start in Middle of Dec, 2010