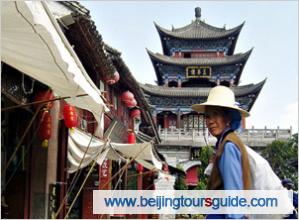 Dali Old Town is also known as Dali Ancient City. The place is 13 kilometers away from Xiaguan in Dali City and serves as one of the "Three Ancients" (Ancient Cities, Ancient Pagodas and Ancient Steles) of the Dali Scenic Spot.
Dali Old Town can date back to the year 1382 during the Ming Dynasty (1368-1644). Over several hundred years, the Old Town became bigger and bigger. The market here around street corners were prosperous. Its stories last until nowadays. In 1982, relevant government section assigned Dali Old Town the top listed historical cities of China. With Erhai Lake to the east,and Cangshan Mountain to the west,its grand city wall,traditional Bai ethnic minority folk houses and marvelous scenery have been attracting many visitors.
According to descriptions of literature,Dali Old Town was a gateway to the Silk Road in Southwest China,and also served as a seat of government and a major military barracks for Yunnan Province in ancient times. It enjoyed magnificent scale,with a wall length of 6 kilometers,a height of 7.5 meters and a thickness of 6 meters. There were four city gates facing four directions,upon which sat gate towers. The city layout was uniform,with five main streets from south to north and eight main streets from east to west,while marketplaces were neatly arranged within the city,which has remained unchanged to this date.
Tourists may walk around corners of the old town. You may find some interesting people or featured local souvenirs. The architects in the region are fine and civil life shows its active aspect. Dali Old Town is an ideal site for you to get much closer to the real life of people in Southwest China.
Prev:
Three Pagoda Temple
Next:
Lijiang Old Town