Beijing is located in north of China, so the city presents the different characters of clear distinction four seasons as most of northern cities in China. Hot summer with green, chilly winter with white, cool autumn with golden in addition to the warm spring with light, all of these colors make the city performing different styles every year which could bring for travelers variety of beauty in different seasons.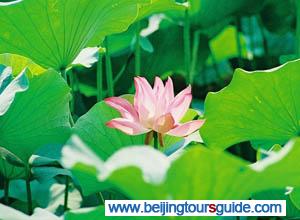 Lotus Flower at Summer Palace
It is important to understand the characters of seasons in Beijing that will let travelers enjoy the different experiences in four seasons by their choices.
Summer is a long hot season usually starts from June and lasts until September, hot, humid, and rainy. July is the hottest month in summer, temperature ranges from 28℃ to 35℃ in most of the time, please do not surprise of a 40℃ during the month, rainstorms will attack you late in the season, so you'd better carry a umbrella with you that can make you hidden from the blazing sunshine and rain, and calls for cool clothing, however, carrying a thin coat is a consideration if you like to go out at night or suburbs. Summer is a also a hot season for hot spots for tour in Beijing,
Summer Palace
,
Houhai Street
, night street, etc, all the places are in their most lively scenes.
The most comfortable time visiting Beijing is in spring or autumn, that staying in first and last time in the summer, spring is between April to June, autumn is during from end of September to November, both of the time of the seasons are short, the climate in the period is cool.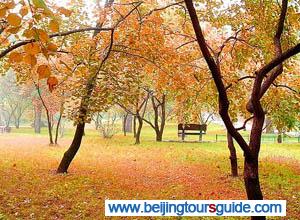 Xiangshan Park in Autumn
Spring with heavy wind sometime, a hat is suitable for your journey. The autumn with scenery of the trees changing color is engaging,
Xiangshan Park
is the best place to enjoy the golden heaven full of fallen leaves with breeze, heading out to the Great Wall and enjoying walking with the warm sunshine is a cozy tour. Both of the seasons present large temperature difference between daytime and evening, so jeans and a sweater are usually useful.
Winter is a long period usually from December to March, freezing cold with bitter wind maybe a challenge for visitors from tropical countries, the temperature will drop at minus 20℃, calling for warm clothing as cotton jacket or down coats. Nevertheless, winter is a wonderful season for skating in Beihai Park, enjoying the hotpot, watching a snow world in this magic city.

Start to Plan a Beijing tour? You can have a look at our Beijing tours and choose your time of travel.


Beijing Average Climate by Month:
| | | | | | | | | | | | | |
| --- | --- | --- | --- | --- | --- | --- | --- | --- | --- | --- | --- | --- |
| | Jan | Feb | Mar | Apr | May | Jun | Jul | Aug | Sep | Oct | Nov | Dec |
| High (ºC) | 1.11 | 3.89 | 11.11 | 19.44 | 26.11 | 30 | 30.56 | 29.44 | 25.56 | 18.89 | 10 | 2.78 |
| Low (ºC) | -9.44 | -7.22 | -1.11 | 7.22 | 12.78 | 17.78 | 21.11 | 20 | 13.89 | 7.22 | -5.6 | -7.22 |
| Precip(mm) | .1 | .2 | .4 | 1 | 1.1 | 2.8 | 6.9 | 7.2 | 1.9 | .7 | .2 | .1 |
| High (ºF) | 34 | 39 | 52 | 67 | 79 | 86 | 87 | 85 | 78 | 66 | 50 | 37 |
| Low (ºF) | 15 | 19 | 30 | 45 | 55 | 64 | 70 | 68 | 57 | 45 | 31 | 19 |