Beijing Tours Guide is an E-tourism brand operated by Beijing Explore Tours CO., LTD Inbound Tourism Department. Beijing Tours Guide is one of th e most professional experienced and reputed Travel Agency &Tour Operator in China. We are located in Beijing which is our advantage beyond other agencies either from China or abroad. It means that you can contact us more convenient and you are dealing with a more professional agency in Beijing tourism. Our business ranges from tour itineraries planning, hotel and air tickets booking, airport transfer, guides offer, all kinds of rent services included cars, bicycles, phone cards. All of these services could supply either as a package or separately and are guaranteed about the price and quality to meet various travelers with different needs at great value for money. In addition, we also involve in tours of other cities in China simultaneously. For more information about our business scope, please see What We Do.
Our Trustworthy Team
We have an excellent and devoted team. Our team is mainly constituted by website writers and technical supporters, tour consultants, guides and drivers. All of the staff is professional with 5 years' experience for the least. Every member plays an important role in the whole travel operation.
The website writers enable the website content as detailed as possible so that it could be a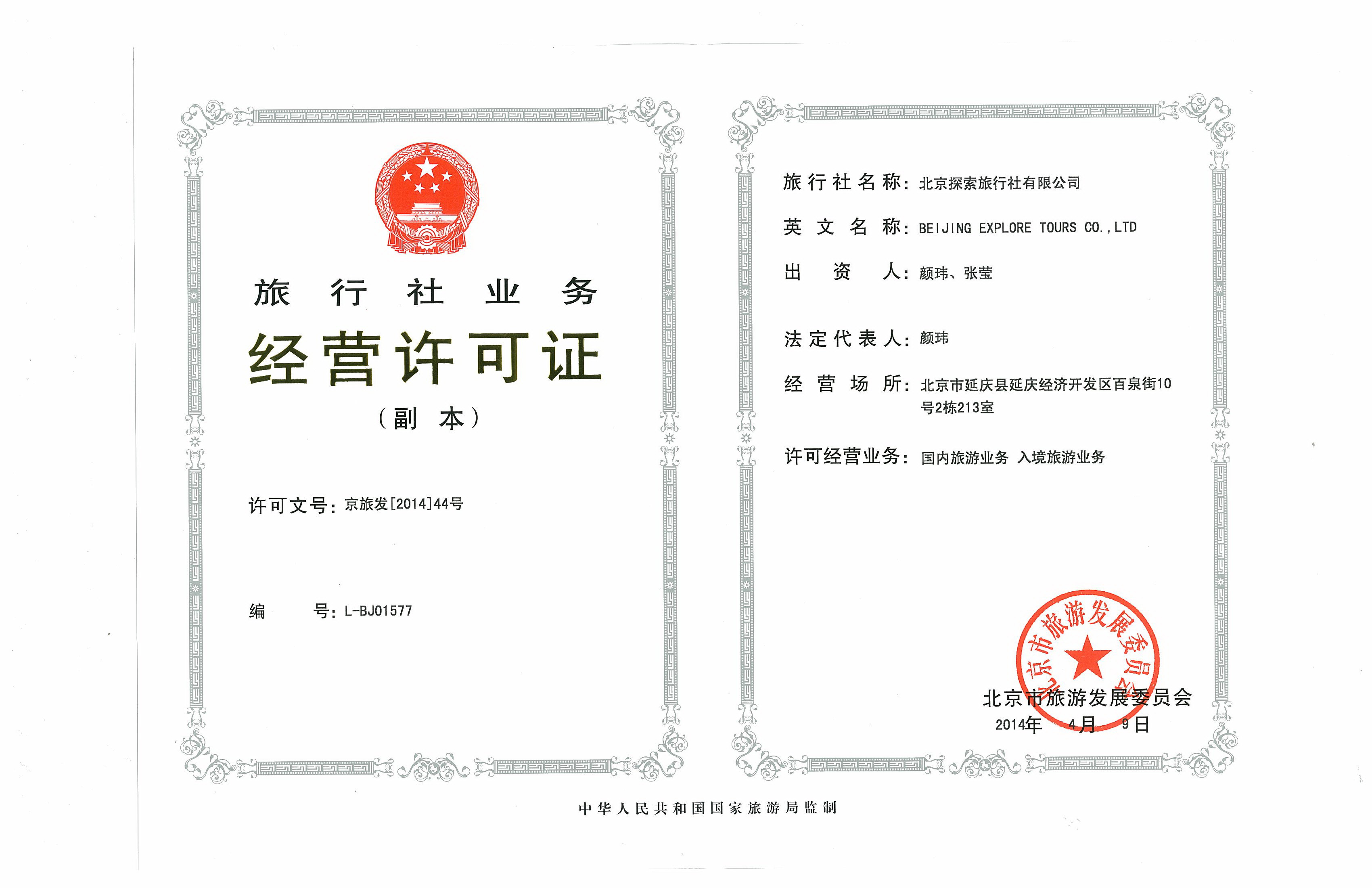 Travel Service Business Certificate, License Number: L-BJ01577
guide book for you to know your Beijing tour well, and the technicians can guarantee the website works in a smooth way.
As for the tour consultants, they are your direct contact to make the complete itinerary for you, included hotel and flight reservation service as requested. They strive to offer you the most suitable and enjoyable itinerary to your interest and the best discounted hotels and flight with the guarantee of quality. Besides, they are always right here in Beijing ready to answer your questions referring to the tour, 24 hours a day, 7 days a week, and 365 days a year.

Finally is about our guides and drivers. We could supply guides that are able to speak different languages in a fluent way and English ones are major. They are not only familiar with Beijing attractions but also they could tell about them in depth up to the social, historical and cultural dimensions. What's more, they are sincere in communication with the customers. While for our drivers, all of them are licensed, polite and long years experienced with no accident record.
In all, our specialty and devotion assures you a pleasant journey in Beijing.
Read more about Beijing Tours Guide: