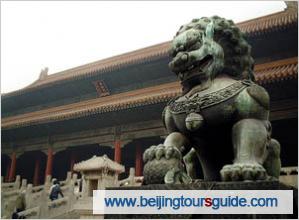 Forbidden City is the palace of ever 24 emperors as its householders in Ming Dynasty and Qing Dynasty, one of the largest and most majestic and best preserved imperial palaces in the world. Now it is called the Palace Museum. It is another must visit destination of Beijing tourists.
It is located in the middle of Beijing, 961m long from south to north, 753m wide from east to west with an area of 720,000㎡ containing 980 buildings and 8,704 rooms, surrounded by 10m high wall and also a 52m wide moat as the external protection. Four gates are set through the wall each side: Meridian Gate in the south, the Gate of Divine Might in the north, East Glorious Gate and West Glorious Gate (only the former two open to tourists). The architectural composition in the palace is based on the central axis which is in south- north direction and the buildings were constructed on the west and east side. The whole palace was divided into two parts then: the outer court and the inner court. In the outer court, the emperor handled political affairs, the morning assemblies were held every early morning and ceremonies were celebrated. The inner court was also called back palace, the residence of emperors, empresses and their families. Traditionally, it was said that there are 3000 beauties in the back palace serving for one emperor.

Three Halls of the Outer Court

Hall of Supreme Harmony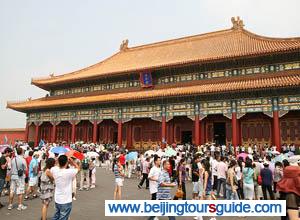 Hall of Supreme Harmony
Commonly was called the Throne Room. It is the biggest timber structure historic building existing. A lot of drawings and carvings of China dragons and phoenixes were distributed in the beam roofs, colored walls and pillars. You also have the opportunity to see the bronze turtle and bronze crane which was only allowed to be laid here. Of course, you could see the gold coated throne with dragon carvings, the right symbol of absolute monarch. The morning assembly was held here everyday. Besides, it was used when the throne was ascended and when the general was ordered by the emperor to lead the army away for a battle with a stamp authorizing ceremony.
Hall of Central Harmony
It is behind the Hall of Supreme Harmony with an area of 580m². The emperor came here to take a break during the morning assembly or do the maneuver of important ceremonies or celebrations.
Hall of Preserving Harmony
It is in back of Hall of Central Harmony. Every New Year's Eve the emperor bestowed a banquet inviting princes and dukes of vassal states. During Qing dynasty, final imperial examination (presided over by the emperor) was held here every year.

Three Halls of the Inner Court

Palace of Heavenly Purity
The main one among the three palaces, 20 m high. In the center of the palace, there is the dignified throne up which is the typical plaque with lettering of "正大光明"meaning "be open and aboveboard". It is the resting and sleeping palace of emperors and empresses. Furthermore, the emperors also dealt with political affairs here calling in their subordinates, perusing memorials to the throne and receiving foreign ambassadors.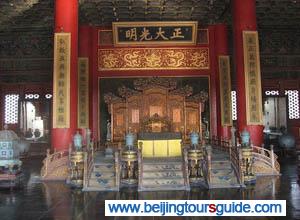 Inside of Palace of Heavenly Purity
Hall of Union
It is right between the other two palaces of back court with an implied meaning: the union of heaven and earth, well being and happy. It was used to celebrate the empress's birthday and hold the sacrifice ceremony to silk worms by the queen to pray for a good harvest. In addition, the royal seal of Qing dynasty is stored here.
Palace of Earthly Tranquility
In the north of the Palace of Heavenly Purity. It had been the residence palace of empresses since Ming dynasty. Until the Emperor Shunzhi of Qing dynasty, the palace was transformed into east part and west part. The east palace was used as emperor's bridal chamber. In the chamber, there are palace lanterns lettered 囍 (double happiness,喜means happiness), a happiness marriage bed called dragon and phoenix bed with a 5-coloured gauze curtain embroidered a graph called Hundred Sons.
Entrance fee:
April 1-October 31: 60RMB
November 1- March 31: 40RMB
Prev:
Great Wall
Next:
Temple of Heaven