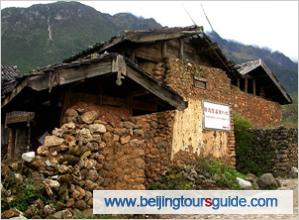 Rock Joseph's Former Residence was located in Yuhu village to the north of the Lijiang Old Town. Yuhu village is called "wuluken" in the Naxi language which means 'village at the foot of Jade Dragon Snow Mountain'. A few years ago, the Rock Joseph's Former Residence was opened to tourist as "Exhibition Hall for Former Residence of Dr. J.F. Rock".
Joseph Rock, an Austria-American botanist and explorer, lived in Yuhu village and other places of the region from 1922 to 1949. He was both a naturalist and a photographer, and the first foreign scholar to introduce Lijiang ethnic culture to the western world.
The residence is consisted of three rooms with a courtyard. East of the site was where the former general headquarter for American expedition of the National Geographic Institute. Upstairs is the living room where Rock Joseph lived for more than 20 years. The bed, the desk, the chair, the brazier, the bookshelf, and the clock as well as other necessities in the room, are what Rock used at that time. The building facing north is the "Exhibition Hall of Former Residence of Dr. J.F. Rock", exhibiting the photos taken by Rock, and many other things that Rock left in Lijiang. Especially, there are relics like his coat, shotgun, dental tools, and carpenter's tools, which were all brought from his country by himself.
Rock was a botanist, who was appointed by the US Department of Agriculture to conduct a botanic research and specimen collecting in the Hengduan Mountain range in the May of 1922. However, Rock was deeply attracted by the beautiful scenery and local customs. He transferred to instead research the Naxi culture. He lived there for almost 27 years and became the "Father of Naxiology".
Rock was not the first westerner that came to live in Lijiang, but he was the only western scholar who studied Naxi culture omnibearingly at that time. He predicted that the Naxi culture was an integral part of the world civilization. He gained the Naxi people's friendship and respect because of his braveness and sincerity. In this place far away from his home, he found enthusiasm of work and a home for his heart. Lijiang had become the only that he missed till the end of his days.
Prev:
Baisha Murals
Next:
The First Bend of the Yangtze River