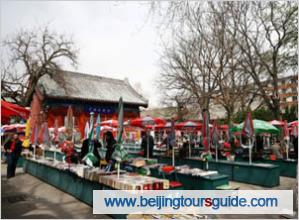 Baoguosi means the "Temple of Serving the Country". It was built in Dynasty Liao ( 916-1125 ) and had developed better and better during the period of Dynasty Yuan ( 1271-1368 ), Ming ( 1368-1644 ) and Qing ( 1644-1911 ). The temple was first designed to sacrifice a royal family member. But later, its function of selling antiques, books and flowers became more and more important. Although the name remains, a Chinese traditional culture bazaar has earned much more reputation. Nowadays, Baoguosi is a complex market of coins, paper money, old books, stamps, antiques, paintings, calligraphy works, jade decorations, souvenirs and flowers. And the first items, coins, paper money, old books and stamps, are Baoguosi's feature and pride.

Baoguosi allows individual vendors opening their business in Saturday and Sunday. So, if you are not afraid of the flow of people, weekend will be an appropriate time hanging around the area. Bargaining is essential. And you may have the opportunity to choose a real priceless treasure from both shops and wandering vendors, because some nice folk collections will be in the market at this time.

Baoguosi locates north to Guang'anmen Nei Avenue. You can take Subway Line 4 and get off the train at the station of Caishikou. Getting out of the station and walking west for about 500 meters, you will find featured shops of Baoguosi area.