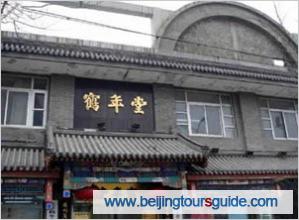 Heniantang locates near Caishikou, south to Xuanwumen ( Xuanwu Gate ) in Xicheng District. It can trace back to 1405, when Dynasty Ming dominated China. Thus, Heniantang is the oldest medicine store in China, maybe also serves as the oldest but still operating medicine shop in the world. Dedicating into medicine for hundreds of years, Heniantang has exploited over 100 medicated foods, 40 types of medicated herbal soup and 150 kinds of herbal rice soup. Most of products came from the secret recipes of the imperial family and secret fold remedies.
Heniantang was entitled by its founder, Ding Henian, who was a poet of the early Ming Dynasty. "He" in Chinese means cranes. "Nian" means ages. Combining the two characters, it has the meaning of the crane's age, equals to longevity in Chinese. Heniantang put itself at the position of helping people to keep healthy and extend the longevity. It carefully chooses Chinese traditional medicines into daily diets health care, and emphasizes medicine be absorbed in more gentle ways, such as by soups or beverages. All of these efforts have made Heniantang a great success.
Beijing locals have other sayings about Heniantang. Dynasty Qing used Caishikou as the execution ground, near the location of Heniantang. The main execution methods were decapitation or even the cruel slow slicing. Heniantang produced good knife wound medicine, and there were some ghost stories depicting the dead one coming to Heniantang for the medicine. Though it is a joke, Beijing locals still have something new added to their language. That is, if someone talks to you that you need to turn to Heniantang for knife wound medicine, it is actually a sentence of abuse. It is totally faked, but making Heniantang more interesting and common for people to get in touch with.