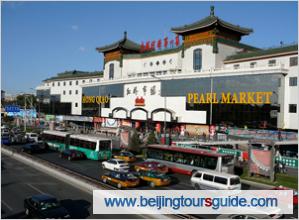 Hongqiao Pearl Market is the popular name spreading in the west. Actually, the market also trades in other items, from living goods to luxuries. Floor 3 to 5 are the core of the market, the jewelry section.
Delicate pearl jewelry earns Hongqiao a great fame. Hongqiao is the largest pearl distribution center in China. The market chooses pearl materials from fine origins and pays enough attention to quality and style. Varieties of colors, glossiness and sizes classify pearls to different value. There are freshwater pearls, South Sea Pearls, sea water pearls and Tahiti Pearls showed in the booths. Prices vary from a little yuan to tens of thousands of RMB. Sometimes it is just the price for one pearl. It is a paradise for ladies to dress up themselves with exquisite and elegant pearl necklaces, rings and earrings.
Hongqiao Pearl Market is also famous for welcoming world heavyweight leaders and celebrities. Former U.K. Prime Minister Margaret Thatcher had been to the market for three times. Tourists may still find a huge picture of Thatcher's visit in the lobby of the market. Former U.S. President Bill Clinton and the retired Cuba leader Fidel Castro paid visits to the world-renowned market, too. Their choice would not mislead your decision. How about hanging around the Hongqiao Pearl Market?
Guests may take Bus Line 6, 116, 685, 684, 814, 60, 41, 35, 34, 36, 723, 39, 25 and get off at the station of Fahuasi ( Fahua Temple ). Hongqiao Pearl Market locates right beside Tiantan ( Temple of Heaven ). You may plan your shopping after a Tiantan trip.

Related to Beijing Shopping Tours:

Beijing Shopping Tour B: from $28, Xiushui Street Silk Market
Beijing Shopping Tour A: from $28, Hongqiao Market (Pearl Market)