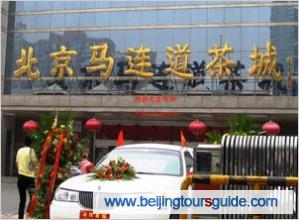 Maliandao Tea Street locates in southwest of Xicheng District. The street is the largest tea and tea items distribution center in North China. Businesses on Maliandao occupy more than 8 big malls. Each year, the market volume of the street will exceed 1 billion yuan, making Maliandao the leading tea market of the whole country. Its influence is not limited in the north. In fact, a large quantity of tea and tea products being popular in Japan, South Korea, the United States and even European countries can find their roots in Maliandao. The street is the tea wholesaler of the world.
On Maliandao Tea Street, you are easy to find familiar tea types, such as West Lake Longjing ( Dragon Well ), Anxi Tieguanyin, Huangshan Maofeng, Dongting Biluochun, Xinyang Maojian, Pu'er, Dahongpao, Oolong, etc. Tea houses, related items shops compete with each other fiercely. Then, bargaining finds its space of existence. Shop owners decorate their booths from tiny corners. Some of them even have their own plantations, maybe far away from Maliandao in somewhere of South China. Tea houses will welcome you to taste their home-made beverages. You can learn tea much better by drinking directly, or inquiring the professionals at the same time.
Maliandao Tea Street is a fine place for getting close to China's tea culture. Tea is the indispensable role in Chinese people's lives. That means, if you learn the spirit of tea deeper, you may come closer to thoughts and value of the real Chinese masses.