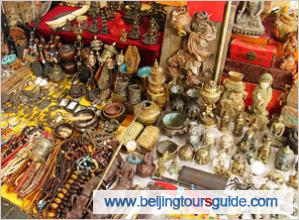 Panjiayuan Antique Market is the curio distribution center of the country. Hundreds of antique stores trade in ancient porcelain products, paintings, calligraphy works, bronze ware, jade decorations, jewelry, carving works, antique furniture, carpets and so on. The market is complicated in paths. You will not lose yourself in the area, but definitely find new angles to observe an ancient China in modern times.

Selling is not the only trade pattern. Each year, there will be a large number of exhibitions, lectures and experience sharing activities happening in the place. If you hang around the market at this time, your luck to hunt a real treasure will be boosted. And, you may bring antique of your own to the market, if you doubt its origin. Experts in the market will examine with their professional knowledge. Some of these experts were retired from the Palace Museum ( the Forbidden City ) and National Museum. That is the best quality assurance for the brand of Panjiayuan.

Panjiayuan Antique Market is right beside South 3rd East Ring Road, Chaoyang District. You may choose Bus Line 28, 300, 368, 607 or 907 and get off at Panjiayuan Stop or Shilihe Stop. You may also take Subway Line 10 and get of the train at Jinsong Station. Getting out of the station, you need to walk south for about 1 km and finally reach the market.