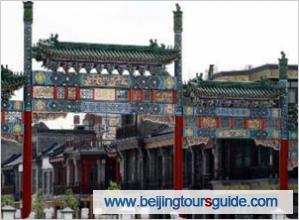 Qianmen Avenue starts from Qianmen (the Zhengyang Gate), which is the central front gate of inner city (downtown) of Beijing. Its end to the south is Yongdingmen (the Yongding Gate), the central front gate of outer city of Beijing. The avenue overlaps a lane of the central axis of Beijing, which is highly thought by architecture community as a miracle of city construction history. Qianmen Avenue is the center of Nancheng (the South City). After Manchu entering Shanhaiguan in 1644 and taking control of Beijing, they inhabited in inner city, and forced local Han groups moving south outside of Qianmen. That is the area of Nancheng. People concentrated within a small area and business bloomed. Qianmen area became the commercial center of old Beijing. The avenue itself was prosperous, while those streets or lanes linking with it got profit from the association too. Qianmen Avenue has developed all the time. After renovation a few years ago, the avenue is now a scenic commercial region, showing the style of Dynasty Ming and Qing.
Among the streets of the area, Dashilar is the most famous one. Dashilar was built in Dynasty Ming and became prosperous in Dynasty Qing. The first name of Dashilar was "Langfangsitiao". In Dynasty Ming, many wooden fences were set at the lanes entrances to prevent thieves. Thus, the street had its new name "Dashilar" ("big fence" in Chinese). There are plenty of shops and vendors spreading in Dashilar and nearby lanes. Tongrentang, Qianmen Quanjude Roast Duck Restaurant, Zhangyiyuan Tea House, Ruifuxiang Silk Shop, Dabei Photo Studio, Guangdelou Theater and many others are all active businesses in the region. There is a street train on Qianmen Avenue. Locals like to call it "Diangdiangche" ("Diangdiang" is similar to the noise when the train moves). In a word, Qianmen Avenue is a nice place to feel the real society of Beijing.
In order to welcome the Beijing Olympic Games, Qianmen Avenue had been refitted for days. On August 7, 2008, a new but timely featured area showed its beauty again. Even corners of the street show the flavor of Dynasty Ming and Qing. Qianmen Avenue is a fine place for shopping. Relaxing by walking around after supper will be another wonderful choice.