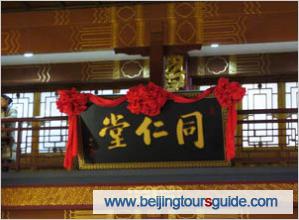 Tongrentang is Beijing's oldest traditional Chinese medicine store. It was founded in 1669 and received royal patronage in 1861. At the very beginning, Tongrentang was a small shop front in the area of Qianmen ( Zhengyang Gate ). For hundreds of years, it has expanded all the time. Nowadays, Tongrentang controls chain drug stores with its brand all over China. It even has branches overseas. Modern R&D institutes, factories and museums are being built by Tongrentang. It is an active partner of charity business. It serves as the name card of traditional Chinese medicine in the world.
The family creating Tongrentang was a legend. Le family started the business in 1669, while in 1754, Tongrentang suffered a hard period and was transferred to Zhang Shiji, an associate with Le family. More and more investors joined the business. In the mid 1800s, Le Pingquan, the offspring of Le family, opened up another pharmacy called Guanrentang, and started buying back Tongrentang. From then on, Tongrentang has moved on the way of fast expansion. Le set rules and reassured the public that Tongrentang represented high quality and safety. The recognition from royal family of Dynasty Qing finally brought Tongrentang to the royal-cooperated platform, and greatly helped its publicity in the masses. There was a TV series entitled Dazhaimen ( the Grand Mansion Gate ), in which the story of Tongrentang had been detailed described.
Tongrentang is still expanding. Branches can be found everywhere, and it is a brand of quality. If you have plenty of time, you may walk around the exhibition room of Tongrentang. There, you can get more knowledge on traditional Chinese medicine, at the same time, knowing how much could a single family affect the entire business and bound its fate closely with the nation's decline and rise.