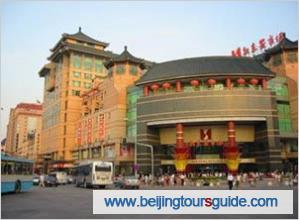 Wangfujing Street is the most famous commercial street of Beijing in modern days. Its Snack Street and shopping malls impress guests home and abroad. The street is not far away from Tiananmen Square and CBD. It is said that wells here in the past were a magic scene and the water cured the sick quickly and effectively. Actually, as the name told, the wells belonged to the prince's mansion, so it would not be that easy for normal ones to come close to. Later, people would find no more water in the region, but the name survived. On September 11, 1999, a new Wangfujing Street opened to the public. It replaced the old crowed, dirty and unsafe street and revitalized soon in a short time.

Wangfujing Street is full of famous brands. It has huge shopping malls like Oriental Plaza, Beijing Department Store, New Dong'an Square and so on. At the same time, the street attracted many time-honored brands to settle here. For example, there is the famous China Photo Studio. This studio is definitely not a common one. The standard official portraits of China's top leaders, are all photographed here. Through the window of the shop, you can see huge photos of Chairman Mao, Premier Zhou and President Liu. These photos were used for decades and had huge impact on China and all over the world. You can find Shengxifu not far from China Photo Studio. This is an old shop focusing on hats. Its hats enjoy a great fame, even Doctor Sun Yat-san received one of their products. Same old shops establish branches there in Wangfujing Street. Some of them were rooted from it. It is the best place for you to get close to the smell of early Chinese commerce.
Wangfujing Street has a convenient environment for shopping, walking and temporary living. On the south end of the street locates the Beijing Hotel, a 5-star luxury state-guest hotel attracting eyes of passersby. City buses are crowed within the area. Subway Line 1 transports passengers to the street. Shopping here will be a convenient and happy experience.