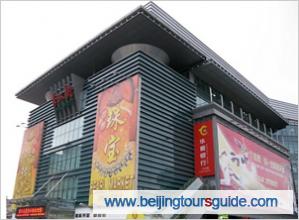 Xiushui Market, also called Silk Market, Silk Street or Pearl Market, locates near the most prosperous business circle of Beijing, CBD. The market occupies an area of about 1,800 square meters, within which more than 400 booths opening up their business. Xiushui Market has a history for about 30 years, serving as one of China's earliest free market after 1978. The old Xiushui Market had been shut down because of selling counterfeit and shoddy goods, and being in dangers of primitive facilities and fire hazard. On March 19, 2005, the new Xiushui Market opened with a fresh look of a huge building with a large area of plaza and grassland on the north of the extended Chang'an Avenue.
Silk is the brand of the market. The market collects different types of silk products from all over China, including the most famous Suzhou series. Silk clothes, embroideries, handicrafts are the most common goods in the market. Beside silk, you will find yourself lost in the "sea" of pearls, jewelries, antiques, calligraphy collections, bed coverings, leather products, shoes, trousers, jackets, polos, T-shirts, sunglasses, toys, carpets, souvenirs, sport items, golf equipments, art works, watches, electronic gadgets and many other small items you might never heard before.
Bargaining is essential in the market. A large number of things selling in the market are not priced with labels. Even those with labels are inflated to a great extent. Thus, you may need to prepare enough for your Xiushui trip, mainly in adjustment of mood for bearing the loss or enjoying the windfall. The rational advice is hanging around with a Chinese local, in which way that the original price will not be going too far for consideration. And when the bargaining course starts, a local has his/her advantages of language and plans organizing. If there are a few locals handling the trade, you are the lucky dog.
Xiushui Market attracts people from all over the world. In summer of 2008, when the Olympic Games occupying the city, many renowned guests filled their shopping desire in different corners of the market, including former U.S. president George Bush, president Jacque Roger with I.O.C. ( International Olympic Committee ) and leaders, celebrities from a lot of countries. It is not a surprise for you to find series of photos showing the unknown vendors grinning from ear to ear with heavy-weight world leaders bending arms around their necks.
Xiushui Market locates at No.8, Xiushui East Street of Chaoyang District. It is not far from Guomao ( World Trade Center ). If you do not have opportunities to overview every Chinese featured things, the Market will be an ideal choice to hang around.


Related to Beijing Shopping Tours:

Beijing Shopping Tour B: from $28, Xiushui Street Silk Market
Beijing Shopping Tour A: from $28, Hongqiao Market (Pearl Market)