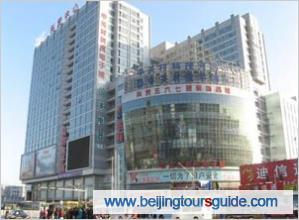 Zhongguancun Hi-tech Zone is sometimes called "China's Silicon Valley". It locates at the northwest of Beijing, in Haidian District. Around Zhongguancun, Peking University and Tsinghua University export capital of information and human resource. People believe that Stanford supports success of Silicon Valley, while in Beijing, the same pattern duplicated. Top intellectuals come from every parts of China and seek their fortune or achievement within the area. Locals love shopping IT items in the area. It is the most enthusiastic block of Beijing. It is the pulse of China's technology future.
Zhongguancun is a name from the past. In Dynasty Ming and Qing, retired eunuchs would have to gather at the place to support each other living. When they died, they were buried there. People of that time called eunuchs "Zhongguan", so the place started to gain the name of "Zhongguancun" ( eunuchs' village ) or "Zhongguan Fen" ( eunuchs' cemeteries ). Modern people changed the character "guan" ( official ) to "guan" ( pass of a solid fortress ), in order to avoid the use of the original meaning. After 1949, Zhongguancun was chosen as the ground for building the Chinese Academy of Sciences. Together with Tsinghua University and Peking University, Zhongguancun had transformed itself into a new technology giant in a very short period. In May of 1988, following the instruction from the State Council, Zhongguancun Science and Technology Park came into being. From then on, this area gradually became the hi-tech center of the city and even the whole China.
There are world-renowned enterprises in the region. Employees from all over the world form the labor force. R&D centers spread everywhere. Advanced transportation expands Zhongguancun's influence. It is a place for viewing a modern China. Hanging around the region, you will feel the impulse of development, and see China's technology future.