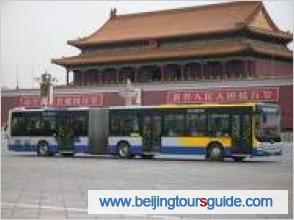 Travelling by public buses is the second cheapest way after bicycles around Beijing. The bus system in Beijing is so good that you can get almost anywhere in Beijing by bus. However, most buses are unimaginably crowded and pickpockets are common in the buses.
Take a bus and you will get to almost every attraction in Beijing. The most notably is the 9 initialed numbered buses, which escort you to the well-known attractions in the suburban areas of Beijing. Differently, these buses are usually less crowded and air-conditioned. Following are some lines for your reference.
'9' Initialed Buses for Suburb Attractions
Deshengmen Bus Terminal
Bus No.919 (air-conditioned, fast)
Destination: Badaling Great Wall, Weihe Drifting, Wenquan Holiday Village
Bus No.919 (common, slow)
Destination: Badaling Great Wall, Badaling Sarafi Park, Juyongguan Great Wall, Longqingxia
Bus No.919Z
Destination: Kangxi Grassland
Dongzhimen Bus Terminal
Bus No.936
Destination: Mutianyu Great Wall
Bus No.916
Destination: Mutianyu Great Wall (necessary for you to make a transfer at Huairou District and take a mini bus there to the Great Wall)
Bus No.980
Destination: Simatai Great Wall. Actually the bus stops at Miyun County and then you take a mini bus there to Simatai.
Bus No.980
Destination: Jinhaihu Lake. You have to take a mini bus from the downtown Pinggu stop to Jinhai Lake.
Pingguoyuan Bus Terminal
Bus No. 931
Destination: Jietaisi, Tanzhesi
Bus No. 929
Destination: Lingshan Lukou, Chuandixiacun Village
Beijing Railway Station Bus Terminal
Bus No. 938
Destination: No. 01 Epoch City in Xianghe
Tianqiao Bus Terminal
Bus No. 917
Destination: Hancunhe Village in Fangshan District.
Bus No. 917
Destination: Shidu, Zhoukoudian Peking Man Site
Bus IC Cards
Though on some buses in Beijing, there is one or two tickets selling workers, it is much cheaper with a bus IC card, 60% discounted on bus. It is named 'Yikatong' in Chinese, which means 'one card pass', which can be used to pay bus, taxi, subway, public phone call ( in the road booths).
A deposit of RMB 20 is charged and available for a refund in the relative places. You can buy the card in the key bus terminals or in every subway stations. For more details, please visit Yikatong's website www.bjsuperpass.com.