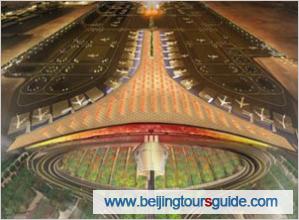 Beijing Capital International Airport
Beijing Capital International Airport (BCIA) is the largest international airport in China and also the country's important window to communicate and exchange with the outside world, known as 'China Gateway'. In 2009, its annual passenger throughput is 65.37 million, ranking the third place in the world. In step with the ever-growing demand of passengers, the hardware of BCIA has been effectively expanded and it is now the first airport in Asia and Pacific regions that has three terminals, three runways and two towers operating simultaneously.
With the advantageous geographical location, it has become the most convenient international aviation hub connecting Asian, European and American aviation markets. Everyday, 1400 flights from more than 70 domestic and foreign airlines closely link Beijing with other 208 cities in the world, making BCIA one of the world's busiest airports. In addition, its safety record has won the satisfaction from passengers both at home and abroad, ranking the second among the airports with the passenger throughput over 40 millions.
In 2008, Beijing attracted the world's attention through the hosting of Olympic Games while BCIA contributed very important support: 446 special planes, 1076 business planes, 7744 flights involving Olympic Games, with the great achievement of ' zero accident and zero complaint'. It won a series of international honors including 'the Best Airport in the World' by a British travelling magazine. Along with the quick development of China's economy, BCIA is also accelerating its pace accordingly, striving to serve Beijing city to build a 'City of the World'.
Contact
Company Name: Beijing Capital International Airport Company Limited
Address: Airport Road, Chaoyang District, Beijing 100621, China
Location: 30 km northeast of Beijing city center
Airport Code: PEK; Country Code: 86
Tel: 86-10-64541111/64541100
Web: www.en.bcia.com.cn
Terminals
Passengers should make clear about which terminals to go for their flights. Thus, we provide the information on which terminals fro the airlines to depart.
T1
Grand China Airlines Domestic (CN), Capital Airlines (JD), Hainan Airlines Domestic (HU),
Tianjin Airlines (GS), Beijing-shanghai Air Express
T2
China Eastern Airlines (MU), Shanghai Airlines( FM), China Southern Airlines (CZ),United Eagle Airlines (EU),Chongqing Airlines(OQ), Hainan Airlines International(HU), Beijing-Shanghai Air Express ,Xiamen Airlines(MF), Korean Airlines (KE),Continental Airlines (AF),Russian International Airlines ( SU),Air Astana (KC ),Air Koryo ( JS),PIA (PK ),Ethiopian Airlines Share Co. (ET), Philippine Airlines (PR ),Domodedovo Airlines (E3),Vladivostok Air (XF),Garuda Indonesia Airlines (GA), Krasnoyarsk Airlines (7B ),Zimbabwe Airlines (UM),Malaysia Airlines (MH),Sri Lanka Airlines (UL),Aviation Enterprise Pulkvov(FV), AeroSvit Ukaninian Airlines (W),Turkmenistan Airlines (T5),Iran National Airlines(IR), Uzbekistan Airlines(HY),Vietnam Airlines(VN), Far East Airlines(H8) ,Klm Royal Dutch Airlines( KL), Delta Air Lines (DL),Hongkong Express Airways(UO ), Hongkong Airlines(HX ).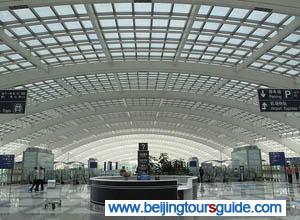 Beijing Airport Terminal 3
T3
Air China (CA), Shandong Airlines (SC), Shenzhen Airlines (ZH), Sichuan Airlines (3U), Beijing-Shanghai Air Express, Northeastern Airlines (NS), Austrian Airlines (OS), Scandinavian Airlines (SK), Germany Lufthansa Airlines (LH ), Asiana Airlines (OZ), Air Canada (AC), United Airlines (UA), ANA Airlines (NH), Turkey Airlines (TK), Egypt Airlines (MS), Thai Airways International (TG), Singapore Airlines (SQ), Finnair (AY), Cathay Pacific (CX), Australian Qantas Airways (QF), British Airways (BA), Japan Airlines (JL), Dragonair (KA), Emirates Airlines (EK) ,Israel Airlines (LY), Qatar Airlines (QR), Mongolia Airlines (OM), Russian Novosibirsk Airlines (S7), Air Macau (NX), China Airlines (CI), Etihad Airways (EY), BR Eva Air (BR) Mandarin Airlines (AE) ,Air New Zealand (NZ) ,Continental Airlines (CO), American Airlines Inc (AA), TRANSAERO AIRLINES (UN)
Airport Transportation
There are several convenient ways for you to go to Beijing city from the airport.
Pre-booked Airport Transfer Service
Beijing Tours Guide offers professional airport
transfer services
according to your pre-booking. We are able to pick you up from the airport. You will have a fluently English-speaking guide, a driver for the transfer. Besides, a fleet of various kinds of vehicles are for your selection, all of which are clean, safe and air-conditioned.
Airport Express Train
The train connects the airport with Beijing subway. Passengers from the airport can catch the train and transfer to subway to arrive in different part of Beijing city. It starts form Terminal 3 and stops at Terminal 2, Sanyuanqiao, Dongzhimen in turn. Sanyuanqiao and Dongzhimen are subway transfer stations where you can make lines transfer to arrive in different part of Beijing. See details of Beijing subway.
Airport Shuttle Bus
Currently, there are 9 different shuttle bus routes connecting the airport with various locations in downtown Beijing, such as Xidan, Beijing West Railway Station, Beijing Railway Station, Nanyuan Airport, etc. There are several bus lines either in Terminal 3 or Terminal 2. Go out of the airport hall, and then find the Bus Ticket Selling Desk. Please be sure where you are going and choose the right line.
Cross Terminals Free Shuttle Bus
The free bus leaves from Terminal 3 for Terminal 2 and then Terminal 1, vice versa. It takes 15 minutes for one way.
Pick-up stations: T1--Gate 3-5 on the 1st floor; T2 -- Gate 11 on the 1st Floor; T3 -- Gate 5 on the 1st Floor
Operation hours: Every 10 minutes at 06:00~23:00; every 30 minutes at 23:00~06:00.
Airport Taxi
There are many fake taxies active at the airport, so remember to take an official taxi. Official taxies have a taxi sign on the roof and a taximeter. Remember to ask for a receipt (fa piao, generated by the meter) upon your arrival before your payment.
Beijing Nanyuan Airport
15 km south of Beijing center, Beijing Nanyuan Airport is the oldest airport in China, opened in 1910. It was primarily a military airfield but now has developed into an aviation terminal handling 1.2 million passengers per yeas and is the base of China United Airlines. It is located in Fengtai District, closer to downtown Beijing than Beijing Capital International Airport. The airport offers destinations included Hangzhou, Chengdu, Chongqing, Guangzhou, Hailar, Sanya, Shanghai-Hongqiao, Lianyungang, Wuxi, etc.
The airport is small with much fewer passengers. The advantages are: you can get more discounted tickets but have to purchase at the airport; generally you are taken directly to the terminal building by the airport shuttle bus or taxi; you don't have to arrive very early prior your flight departure since the boarding procedure is less complex.

Airport Transportation
Pre-booked Airport Transfer Service
Beijing Tours Guide offers professional airport transfer services according to your pre-booking. We are able to pick you up from the airport. You will have a fluently English-speaking guide, a driver for the transfer. Besides, a fleet of various kinds of vehicles are for your selection, all of which are clean, safe and air-conditioned.

By Taxi
To or from Tian'anmen Square: about RMB50
To or from Beijing Railway Station: about RMB40
To or from Wangfujing: about RMB35
To or from Beijing South Railway Station: RMB 50

By Airport Shuttle Bus
Nanyuan Airport-Xidan Aviation Building
Departure time: 12:40, 17:10, 20:50 (adjustable) Duration of trip: about 1.5 hours
Xidan Aviation Building-Nanyuan Airport
Departure time: 06:00, 10:40, 15:10 (adjustable) Duration of trip: about 1.5 hours