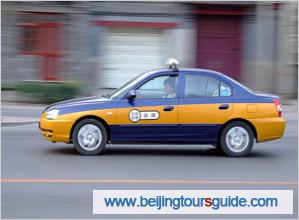 It is very convenient to take a taxi in Beijing. However, as a newcomer, it is wise to know some tips about Beijing taxi.

1. Find an official taxi
In Beijing, there are lots of unlicensed cars that engage in the cab service. These 'black cabs' wouldn't guarantee the safety; moreover, they usually charge more money by some frauds, especially to foreigners. Thus, it is necessary for you to distinct an illegal cab from an official taxi. An official taxi has an obvious taxi sign on the roof and it is in the special taxi decoration style. Besides, there is a taxi meter which will calculate the fare and print the receipt (fapiao in Chinese) automatically.

2. Taxi fare
The taxi fare differs between daytime and night in Beijing. In the daytime, the taxi starting price is RMB10; RMB2 is added per kilometer after the first three kilometers. If the journey is longer than 15 kilometers, the charge is RMB3 per kilometer. During 23:00 - 05:00, the starting fare is RMB11 for the first three kilometers, and then added RMB2.4 per kilometer while RMB3.4 per kilometer for journey more than 15 kilometers.
In addition, waiting during traffic jam is charged every 5 minutes' immobility, equivalent to fare for 1 kilometer.

3. Hail a taxi
Taxi cannot stop anywhere they want. If there is a solid white line and it's a busy place with police around, such as Tian'anmen Square, most taxies would ignore your hailing. Thus, you should try at the side streets or look for the taxi stands. Furthermore, catch a taxi on the correct side of the road if you know which way you are going.

4. Know the Chinese name for your destinations
As most taxi drivers in Beijing don't speak English, it is wise for you to know the Chinese name of your destinations. Keep the name of your hotel and the attraction written down in Chinese with the help of the hotel front desk. You can also ask them to teach you the Chinese pronunciation of the words.

5. Pre-book a taxi
By pre-booking a taxi from a Beijing taxi company, the taxi driver can meet you and pick up you at your designated place, such as the airport, train station, hotel.
Tel: 010- 961001/68373399

6. Tour guide
A tour guide in your taxi trip will help you communicate with the taxi, and escort you all the way during the sightseeing. He/she will tell the cultural background of the attraction in depth to increase the fun of your travel experience. Beijing Tours Guide offers fluent English-speaking guides as your request; all of them are professional, considerate and responsible.