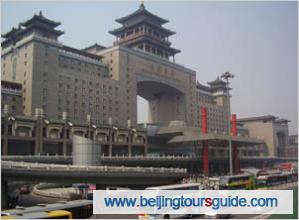 Beijing, as the hub of national rail network, is easily accessible by train from all parts of the countries. Taking by train is rather cheap and safe; what's more, you could meet people from all over the country and have views outside train windows along the way. There are five railway stations in Beijing: Beijing West Railway Station, Beijing Railway Station, Beijing East Railway Station, Beijing South Railway Station, and Beijing North Railway Station.
Railway Stations
Beijing West Railway Station
Located in East Lianhuachi Road, Fengtai District, Beijing West Railway Station is the largest in Beijing and also in Asia at present, with a capacity of 20, 0000 passengers a day. Trains leaving from Beijing to cities including Hukong( Kowloon), Guangzhou, Lhasa, Shenzhen, Xi'an, Guilin, Shanghai, Kunming, Hangzhou, Urumqi, Jinan, Xining, Hohhot, Nanning, Xiamen, Fuzhou, Taiyuan, Shijiazhuang, Chongqing, Changsha, Zunyi, Guiyang, Chengdu, Nanchang, Zhengzhou.
The station has two plazas in the front: the north square and the south square; the entrance and major ticket offices are in the north square. There is underground taxi area in Lower Level 2 and Lower Level 1 east of the north exit. Numerous buses take Beijing West Railway Station as destination/starting ,including
109,122,21,205,209,212,213,301,319,320,349,373,374,387,40,410,414,437,50,52,53,54,65,67,609,616,
661,662,663,673,694,695,616,661,662,663,673,694,695,72,74,741,83,802,823,9,901,927,937,941,981,
982,993,997,特2,特6,运通102.
Beijing Railway Station
Beijing Railway Station is a first-rate national station that serves many lines, including Jingshan (Beijing to Shandong), Jingqin (Beijing to Shaanxi), Jinghu (Beijing to Shanghai), Jingcheng (Beijing to Chengde City of Hebei Province), Jingyuan (Beijing to Shanxi) and Jingbao (Beijing to Baotou in Inner Mongolia Autonomous Region). There are also some international trains from or to Moscow, Pyongyang and Ulan Bator.
Bus routes to the West Railway Station: 9, 21, 40, 47, 50, 52, 54, 65, 67, 301, 319, 320, 373, 374, 387, 414 (north), 437, 609, 616, 661, 662, 663, 673, 702, 727, 741, 802, 823 and night buses 205, 209, 212
Beijing South Railway Station
The superior modern railway station is 'number one railway station in Asia' due to its high-speed trains, located in Yongdingmenwai Dajie, Chongwen District. The express trains depart Beijing to cities including Tianjin, Jinan, Shanghai, Qingdao, etc; the speed can reach above 350 km/h. It only takes half an hour and five hours respectively to arrive in Tianjin and Shanghai.
Bus Routes: 72, 529, 652, T5, T8, 540; subway: Line 4, Line 14
Beijing North Railway Station
Located near Xizhimen Subway Station, Beijing North Railway station mainly serves the tourist trains to suburb and nearby locations of Beijing, such as short distance trains from Beijing to Hebei Province and Inner Mongolian Autonomous Region. It is also the terminus for the S2 Line (run between Beijing to Badaling Great Wall and Yangqing)
Bus Route: 21, 331, 375, 387, 392, 490, 604, 650, 693, 743 to Suojiafen (索家坟); 27, 44,206, 347, 618, 800, 939 to Yutaoyuan (玉桃园).
Subway: Subway Line 2 or Subway Line 13 to Xizhimen Subway Station.
Beijing East Railway Station
This station is the departure station for Jingbao (Beijing-Baotou City of Inner Mongolian Autonomous Region) Railway Line, Jingcheng (Beijing-Chengde City of Hebei Province) Railway Line and Jingqin (Beijing-Shaanxi Province) Railway Line.
Bus Route: Bus No.11, 30, 31, 486, 605, 608, 715, 852, 938 Zhuan (938专), 985, 988 to Beijing Dongzhanbei (北京东站北).
Train Ticket booking
Beijing Tours Guide offers train ticket booking service for you; supply train ticket information even if you don't want to book from us. It is also convenient to ask your hotel to buy you a train ticket (with a small service charge). You can also book tickets from any of the five train stations mentioned above; there are counters special for foreigners in Beijing Railway Station and Beijing West Railway Station. Tickets can be purchased up to 10 days in advance.
Train transfer service
Beijing Tours Guide is experienced in providing train transfer service. Our professional driver (and English speaking guide as your request) will drive you safely to the station in time and escort you to the carriage of your train. Similarly, we are also able to pick you up from the train station and transfer you to the hotel in Beijing. Besides, the vehicles we use for the transfer are various for your selection; all of them are clean, safe and comfortable.
Tips
1)Ticket check-in usually begins half an hour before the departure time, and stops 5 minutes before departure.
2)Several train classes are categorized according to the speed, marked by the prefix capital letter of the train number: D-fastest; Z-faster, few or no midway stops; T-faster, only stop in major stations; K- faster; N-fast; Y-temporary tourist trains; A or L-temporary trains; No letter-Ordinary, stop in every station.
3)Seat Classes: soft sleeper, hard sleeper, soft seat and hard seat with the prices dropped successively.