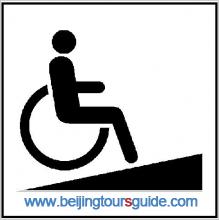 New or renovated parks must have barrier-free facilities, as a new set of standards for parks' accessibility will take effect on January 1, 2011, according to the Municipal Quality Supervision Bureau.

The standards are the first of the kind in Beijing, and specifically mention ticket counters, restaurants, vending machines and public phone booths all need to be barrier free.

Parks' information desks should be 75 to 80 centimeters tall, and ticket counters should be lowered to accommodate seniors and the handicapped.

Toilets must have at least one disabled-friendly cubicle and sink, and an emergency button should be installed 40 to 50 centimeters above the ground in the toilets.

Park entrances should include a wheelchair-access slope with railings, while toilet floors should be slip-proof.

The parks should also have designated parking spaces for the disabled closest to the entrance, with clear parking lines and signs.

It is reported that among the permanent population in Beijing, the handicapped has broken 1 million and the senior citizens above 60-year-old has exceeded 2.3 million. But the situation and standards for the barrier-free facilities in the capital parks are various, thus the rules are to come.
Editor: Susan
Date: Dec 10, 2010
Prev:
Bird's Nest Snow Season to Start in Middle of Dec, 2010
Next:
Tourists Enjoy New Year Holiday in Beijing