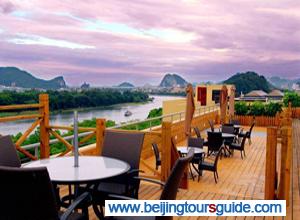 Sheraton Guilin Hotel

Sheraton Guilin Hotel
Address: No. 15, Bin Jiang Road, Guilin, China
Location: Center of Guilin city, Li River
Surrounding: Elephant Trunk Hill, Li River, Fubo Hill
Tel: 86 773 2825588
Hotel Name in Chinese: 桂林喜来登饭店
Hotel Address in Chinese: 桂林市滨江路15号
Website: http://www.sheraton.com/guilin
Description: Sheraton Guilin Hotel is the first foreigner-oriented five-star hotel in Guangxi Province ideally located in the heart of the enchanting city of Guilin. Staying in the Sheraton Guilin hotel, you will overlook the beautiful Li River to the east and is adjacent to the charming Xiangbi Mountain in the south. You can explore the fascinating city while you taking a cruise along the river and enjoying the stunning sights, and you can take in Guilin's most famous attractions - natural wonders like Elephant Trunk Hill.
The 408 newly renovated guest rooms, the advanced meeting room, as well as the special restaurants in hotel will make you feel back home and also in an extraordinary place.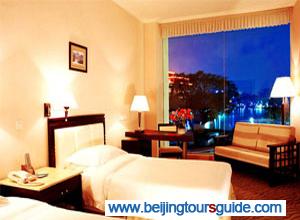 Guilin Bravo Hotel
Guilin Bravo Hotel
Address: 14 South Ronghu Road Guilin, Guangxi, China
Location: Downtown in Guilin
Surrounding: Shopping center, Guilin railway station
Tel: 86 773 2898888
Hotel Name in Chinese: 桂林宾馆
Hotel Address in Chinese: 桂林市榕湖南路14号
Website: http://www.glbravohotel.com/
Description: The Guilin Bravo Hotel (formerly Holiday Inn Guilin) is one of the quintessential hotels in Guilin that is ideal for both business and leisure travelers which is located in city center, and surrounded by some of the most popular shopping areas. The hotel is conveniently closes to the railway station and not far from the Guilin international airport.
329 tastefully decorated guest rooms with lake view rooms and suites make you journey more fantastic. A professional meeting service, unique benefit and service enable you to plan and organize your conference with ease and confidence.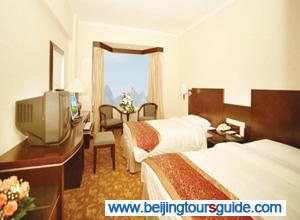 Guilin Osmanthus Hotel
Guilin Osmanthus Hotel
Address: 451 Zhongshan South Road, Guilin
Location: Downtown in Guilin
Surrounding: Shopping center, Elephant Trunk Hill
Tel: 86 773 3834300
Hotel Name in Chinese: 桂林丹桂大酒店
Hotel Address in Chinese: 桂林市中山南路451号
Website: http://www.glosm.com
Description: The Guilin Osmanthus Hotel is an international 3 star hotel in Guilin city, located on the scenic riverside of downtown Guilin. The hotel lies just next to the biggest shopping center in Guilin and within walking distance to the Xiangbi shan Hill, which make it an ideal place to stay both for shopping and sightseeing. The lush green gardens of the hotel and the gentle rippling of the river are sure to relax guests that stay at the Guilin Osmanthus Hotel.
The hotel offers 400 luxury and standard guest rooms and suites and is 26km from the international airport, 1km from the railway station.