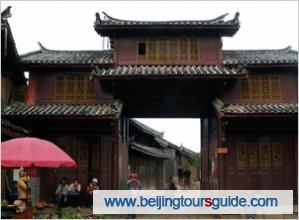 Baisha is a small village. The best way to get to the village is by 40 minutes biking. You can rent a bike from the hotel in Dayan town, cycle through the countryside trails.
It is believed that Baisha is one of the first settlements of Naxi ancestors. The ancestors of the Naxi people crossed the Jinshajiang River, came down from Jade Dragon Snow Mountain and finally entered Lijiang Basin. The first place Naxi tribes arrived in Lijiang was Baisha. Here, Naxi Ethnic groups set up the first settlement and created their Dongba culture.
Baisha is also the birthplace of the Mus. Yegunian, the ancestor of the Mus, this family gradually became more and more powerful till the days when they became the King Mu. From this place, the Naxi began to form the idea of building a city with a market square as center and streams as skeletons. It was in this place that they began to learn the culture, knowledge and technology of the Han people.
We can find the earliest Naxi architectures of Lijiang, Dabaoji Palace and Glazed Hall. They were built in the early days of the Ming Dynasty. It is in a simple and unsophisticated style. The most attracting part of it is the fresco, which was made in the Ming dynasty. It is a great work of art that reflects the multiple cultures at that time.
Prev:
Lijiang Old Town
Next:
Bai Traditional House