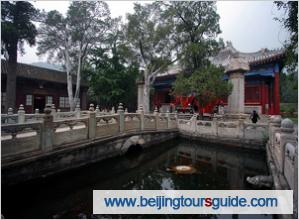 Baiyun Temple (White cloud Temple) is located in southwestern Beijing. It is the largest Taoist architectural complex in Beijing and was the headquarters of Longmen sect of Taoism.
The complex is constituted by the courtyards at a central axis. In the center of the rear courtyard is the Hall of Patriarch Qiu, which was constructed to worship Qiu Chuji, a Taoist priest appointed by Yuan Emperor Shizhu- Kublai Khan to be in charge of all Chinese Taoist affairs, who resided in the temple then.
There is a well-known stele with the inscription of Emperor Qianlong, recording the detailed history of the temple and the life of Qiu Chuji.
The temple is a fusion of both Taoist and Buddhist architectural elements, which makes people confused about its religion attribution. However, the special Taoist motifs prove it Taoist belonging, such as Ganoderma (a plant representing immortals), and the Eight Diagrams.
Prev:
Tanzhe Temple
Next:
Stone Flower Cave