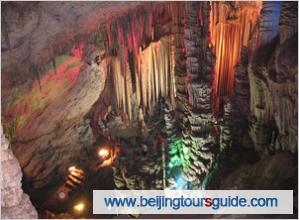 Located in Fangshan District, the Stone Flower Cave (Shihua Dong) is a noted multilayer Karst cave with amazing scenery and geological research value. The cave is said to have been discovered by a Buddist monk called Yuan Guang during Ming Dynasty (1368-1644).
The cave is distributed in 7 clearly levels: the first to the sixth layers are the scenery area and the seventh is the underground river. There are 12 huge cave halls, 16 cave chambers and 71 branch caves in various sizes and shapes.
Walking inside, you feel like in a heaven on earth. Different stone formations are in creatively lively shapes: stalactites, stalagmites, curtains, flowers, etc. The milk white stone Yuenai Shi is a wonder in the cave and a national treasure, either in a lotus shape, or a mushroom shape. The artificial light system specially designed enhances the surprises of beauty in the cave.
Moreover, the Silver Fox is especially worth visiting, an amazing gallery displaying changeable scenery. There is a rare stone regarded as a world wonder- the Silver Fox Stone, shaping in a snow leopard's head, silver fox's body and crystal clear and glittering sharp hairs.
The cave is a great place for sightseeing, and refreshing the mind with its constantly cool temperature and the gentle breeze.
Prev:
Baiyun Temple
Next:
Chinese Century Altar