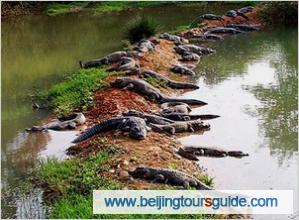 Located in Shahe Town, Changping District, Beijing Crocodile Lake Park is the only scenic spot in China that integrates crocodile breeding, sightseeing and performing, with holiday resort. Here, tourists are able to watch the unique Thai-style crocodile taming performance in which people fight against crocodile, and several crocodiles make a pyramid shape. Besides, it is possible to cast food to the crocodile in the lake when all the crocodiles will come to snatch food like thousands of warships set out at the same time.
The park has a pleasant environment with verdant trees and green crystal waters which improves the park's sightseeing and recreation functions. In addition to crocodiles, there are other attractions. In the Ocean Aquarium, one can see the diving girl dances with a 380 tons sea turtle, and the diving boys are involved in the battle of wits and courage with the Sea Conqueror – shark. Pet Dogs' Paradise is also interesting. Over hundreds of world famous dogs of 70 species gather there for sightseeing, feeding and walking the dog.
In all, there are 22 scenic spots in the park.
Bus Line:
Take No. 914, get off at; take 345,919,920, get off at Manjing Station and walk westward for 200 m.
Open Hours:
5:30-20:00
Admission Fee:
50RMB
Prev:
Beijing Green Dragon Lake Park
Next:
Calamus River Park