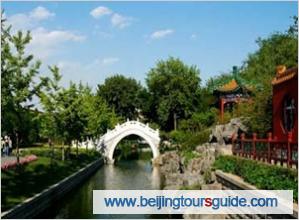 The Calamus River Park is seated to the east of Tiananmen Square and was named due to the calamus growing in the river. The Calamus River is the east part of the Gold River which is the moat of the Forbidden City. The park is a good choice for relaxation in a quiet environment separated from the noisy Tiananmen Square nearby.
The Calamus River is a key attraction in the park. Four different patterns of footbridges stretch across the river which is 510m long, 12m wide, 1.5-2m deep, covering an area of 38,000 square meters. There cultivates numerous kois and red fishes in the river and over 60 ancient trees and new plants along the bank.
There are other scenic spots beside the river. In the east entrance of the park, there is granite made screen, an openwork carving with flowers, trees and birds of four seasons. In front of the screen, the calamus ball is elaborately wrought with stainless steel. This attraction is named 'Spring-greeting Calamus'. Dongyuan Xiaozhu is a group of traditional architecture of pavilions and corridors with a flavor of antique beauty, built in the ruin of Ming Dyanasty Chongzhi Palace. In the Fun-filled Garden, an accommodation of numerous flowers, birds, fish and insect, there are hundreds of fancy pigeons, some of which are the endangered. In addition, there is the Xuling Pavilion, the highest point of the park, and the Rainbow Bridge, a single-arch stone one like a jade belt flying in a rainbow shape.
Bus Line:
Take No.1,2,4,5,10,20,52,57,22,54,120,802,特1 and get off at Laodong RenMing Wenhuagong Station.
Open Hours:
24hours
Admission Fee:
Free
Prev:
Beijing Crocodile Lake Park
Next:
Temple of Sun Park