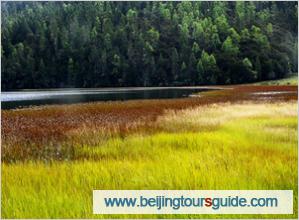 Bitahai Lake is located in the area of Lijiang. In Tibetan language, Bita means "a piece of land as soft as cattle hair felt". With an altitude of 3,539 meters (about 11,608 feet), the lake is the highest in Yunnan Province.
Bitahai Lake is surrounded by forest. The forest is densely scattered with azaleas, and each year in late spring and early summer, when the flowers are in full bloom, the hillsides seem to be dyed red, echoing harmoniously with the clear waters in the lake.
Bitahai Lake has abundant fish resources. Rowing a boat on the lake, one can see shoals of precious "Bitahai Double-Lip Fish". It is an ancient species left over from the Fourth Glacial Age. The small streams beside the lake are home to amphibious "Codfish", which produce a valuable medicine. Each year, when azalea blooms cover the mountains, the wind blows the petals into the lake, causing all of the fish to vie with each other to eat them. They eat so many that they seem drunk and float on the surface. Around Bitahai Lake, there are many rare animals including red-footed pheasant, silver pheasant, wild bull, leopard and lynx. Every April when the snow begins to melt, wildflowers bloom profusely in the meadows. The glorious colors shine like twinkling stars in a sky of fresh green grass. Local Tibetans pitch their tents in the pastureland and their loyal dogs round up any of the animals who try to stray. In the night, when the day draws to a close, a bright full moon arises above the eastern mountains and over the tops of the trees. From the small cottage of the forest ranger comes the sound of joyous singing and dancing. You are here in your tent, and all of the beauty are ready for your appreciation.
Prev:
Songzanlin Temple
Next:
Shudu Lake