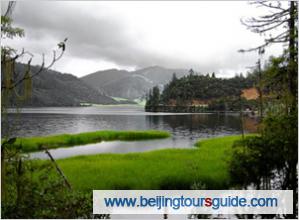 Shudu Lake is 3,705 meters above the sea-level, serving as one of the highest lakes in Shangri-la Prefecture. The lake is known for its clear water, and the peaceful environment of the area around here. It has a great resource of different species of fish with double-lips and golden color. Bordering the lake is one of the best grazing fields in Shangri-la. The ground has provided people with hiking around the lake, horse-riding, watching wild fauna and flora in the primitive forest and fishing in the lake.
The view around Shudu Lake makes it a complete perfection. There are dense forest of fir spruce and birch. Every spring and summer, herds of cattle and flocks of sheep can be seen grazing around the lake. To the east of the lake are white birch woods which in spring and summer are jade green, while in late autumn the leaves turn gold. In the untouched woods, golden cat, deer, pheasant, wildlife such as bear, musk dear, lynx and leopard all live.
Shudu Lake is a famous pasture in Shangri-la. Every spring and summer, herds of yak and goat grazing beside the lake and the shepherd's shelters dot on the grassland everywhere. People can hear the sound of flute comes from afar. Staying beside the lake, you can deeply feel the quietness and leisurely life of plateau people.
Prev:
Bitahai Lake
Next:
Fengdu Ghost City