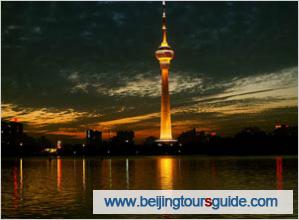 CCTV Tower locates at the west side of the West 3rd Ring Road. The height of the architecture is 386.5 meters, but counting the lengths of lightning rod, the total number will be 405 meters. The Tower weights 50,000 tons, serving as the most modern complex in the West side of the city. The beautiful and unique architecture is provided with modern and functional features. It is the national transmitter for CCTV (China Central Television), CNR (China National Radio) and CRI (China Radio International). Plenty of information is sent to every corners of the globe from here.
CCTV Tower is a nice place for amusement, sightseeing and shopping. On the 238-meter-level of the Tower, four sightseeing floors are opened to the public. The appearance of this part of the Tower is just like the traditional Chinese lantern. Inside this part, there are a VIP Room, a revolving restaurant and a balcony. You may have a nice supper in the revolving restaurant, with all landscapes of Beijing City under your feet. Every 90 minutes, the restaurant will revolve for one loop. CCTV Tower also bears some social activities. For example, a tower-climbing contest is holding here for many times. Contestants climb along the revolving stairs and reach the assigned height to win the medal and bonus. CCTV Tower is a building supplying TV and radio signals, at the same time satisfying people's need for entertainment.
CCTV Tower, with Yuyuantan Park to the east, is the best place for viewing the overall city. In the sightseeing part of the Tower, you may overlook Xishan (West Mountain) and all of the ancient relics inside the city in a bird-eye-view. If you want to go shopping, you may go to the ground beneath the tower. There is a Dazhong Appliance Market there.
Reaching the site needs you to take Bus Line 40, 323, 374, 901 and Yuntong 103 to stop at the station of Bayihu (Bayi Lake). The price to climb the Tower is 50 yuan. Buffet in the revolving restaurant is 58 yuan per person.

Prev:
Jietai Temple
Next:
Botanical Garden