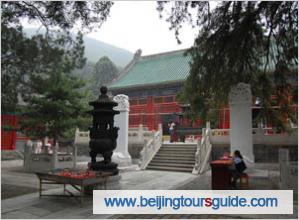 Jietai Temple is one of the three most famous "Jietai" (the place initiating one into monkhood) in China. It has been called the "first Jietai under heaven" for hundred of years.
Jietai Temple locates on the half way of Ma'anshan, 35 kilometers from downtown Beijing. The most famous site of Jietai Temple is its square marble stone "Jietai", meaning the plate to initiate a people into monkhood. This marble stone "Jietai" is designed into 3 steps, with 113 tiny shrines carved around it. There are another 113 "god of Jietai" clay statues next to the shrines. These clay statues were made by the fourth generation of the family of "Nirenzhang" (Clay Figurine Zhang), Mr. ZHANG Ming and his apprentices. On top of the "Jietai", there is a statue of Sakyamuni sitting on a lotus blossom. Ceiling above the "Jietai" is decorated with golden dragon caisson, a Chinese traditional palace architecture pattern, which makes the complex a noble and solemn place. Beside the "Jietai", there are many other attractions in the area, such as ancient pagoda of Dynasty Liao (907-1125), Shijingzhuang, Yukuishihan, tomb pagodas of Dynasty Yuan (1271-1368), Buddhas of Three Times in Dynasty Ming, dinglu, Taiping Vat, wooden shrine carved with dragons and stone lions of Dynasty Ming.
You can't miss old trees in Jietai Temple. The temple has as many as 88 national preserved old trees. Among them, the most renowned ones are the "Five Famous Pines", Wolong, Zizai, Meihua, Jiulong and Baota Pines. At the same You may take Subway Line 1 and get off at the west terminal of the Line, Pingguoyuan, and get on the Bus 931. Getting off the bus and spending 35 yuan, you may start your trip in Jietai Temple.

Prev:
Sacred Way
Next:
CCTV Tower