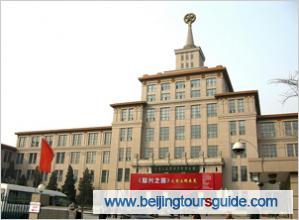 Located at Fuxing Road, Haidian District, the Chinese Military Museum is the first and the only comprehensive museum on China's military history. The museum has become a vivid classroom for tourists, students and CCP members.
The museum has four floors with ten halls, the largest of which is the Hall of Weapons, showcasing antiquated domestic and foreign weapons, included blades, guns, artillery, tanks, jet fighters, rockets, cruise missiles, etc. In addition, there is the Hall of ancient Wars, displaying the history of internal and external wars during 4,000 years before the Qing dynasty.
A highlight of the museum is the display of the people's revolutionary war, which is the only systematic record of the Chinese Communist Party (CCP)'s 28- year-long revolutionary war for the founding of new China. Three halls are used for the display: the Hall of Land Revolutionary War, Hall of Anti-Japanese Invasion War and Hall of National Liberation War.
Prev:
Chinese Century Altar
Next:
Sacred Way