Day 1 Entry Beijing
Today Arrangement: Our private English-speaking guide and driver will pick you up in time at the airport and transfer you safely to the hotel. A paper board with the sign of BeijingToursGuide.com and your name will be held high at the airport exit.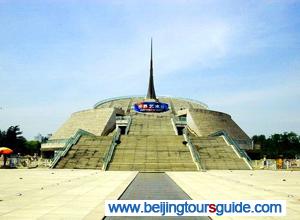 Chinese Century Altar

Day 2 Beijing
Meal(s): Breakfast, Lunch at Green Flower Porcelain Restaurant, Dinner at Quanjude Roasted Duck Restaurant
Attraction(s): Tiananmen Square, Forbidden City, Beihai Park, Temple of Heaven, Pearl factory, Acrobatics Show
Today Arrangement: In the morning, we arrive in the Tiananmen Square, the largest city square in the world, and then we will tour in the nearby Forbidden City, the world famous palace of Chinese emperors.
Then visit Beihai Park, an amusement park for emperors for hundreds of years. After lunch, drive to the Temple of Heaven where emperors prayed to Heaven for a good harvest, then transfer to the Pearl Factory to learn the exquisite pearl processing technology.
The Acrobatics Show is arranged after dinner. It will be a wonderful experience.

Day 3 Beijing
Meal(s): Breakfast, Lunch at Jindian Restaurant
Attraction(s): Badaling Great Wall, Chang Tombs, Sacred Way, Jade Factory
Today Arrangement: With long hours' drive we come to the Badaling Great Wall, visited by more than 300 celebrities such as President Nixon, Lady Thatcher.
In the afternoon tour in Ming Tombs and visit the Sacred Way and Changling Tomb opened to public there. You will then have the opportunity to learn the great building craftsmanship of Chinese ancient royal tombs.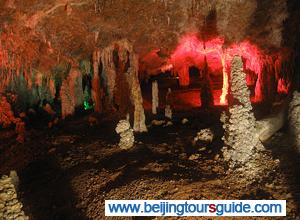 Stone Flower Cave

Day 4 Beijing
Meal(s): Breakfast, Lunch at local Hutong family
Attraction(s): Lama Temple, Hutong tour with rickshaw, Summer Palace, Silk factory
Today Arrangement: In the morning, visit the sacred Lama Temple, the best preserved royal Buddhist Temple. Then we will experience Beijingers' life in the Hutong Area. Be seated in the rickshaws, we will pass through lines of Hutongs, and places of interests included the Drum Tower and Bell Tower. Then pay a visit to the Hutong family, chat with them, make dumplings together and have Chinese lunch with dumplings there. Finally, you learn more about Beijing people's life.
Drive to the world reputed royal garden- Summer Palace in the afternoon and experience a cruise in its Kunming Lake; then transfer to the Silk Factory to learn the delicate silk processing craft.
Day 5 Beijing
Meal(s): Breakfast, Lunch at local restaurant
Attraction(s): Marco Polo Bridge, Peking Man Site, Stone Flower Cave
Today Arrangement: Our morning tour will start in the Marco Polo Bridge. It is built over 800 years ago and is now the oldest bridge in Beijing and was the right place where Japan Invasion to China started.
The afternoon goes with the tour in Peking Man Site and the Stone Flower Cave. The former attraction is where Peking Man lived 690,000 years ago. The latter cave, discovered in 1446 by a Buddhist monk, contains a superb collection of beautiful sights.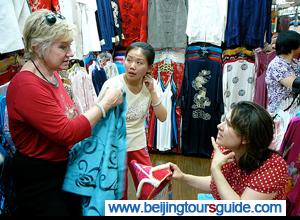 Xiushui Street (Silk Market)

Day 6 Beijing
Meal(s): Breakfast, Lunch at Courtyard 7 Restaurant
Attraction(s): Chinese Century Altar, Chinese Military Museum, Beijing Zoo (Panda Hall), Olympic Green, Xiushui Market
Today Arrangement: Visit the Chinese Century Altar, a grand structure that combines the spirit of traditional Chinese culture with modern architectural standards, built to welcome the new millennium; and then leave for the nearby Chinese Military Museum, storing 5,000 years worth of war paraphernalia. The next stop you will see the cute pandas in Beijing Zoo.
In the afternoon, take an exterior visit for Olympic Green (Bird's Nest and Water Cube). Finally, we will tour in the Xiushui Market, greatly favored by foreign tourists.
Day 7 Depart Beijing
Meal(s): Breakfast
Today Arrangement: Our guide and driver will transfer you safely to the airport for departure. Wish you a pleasant journey and thanks for using with Beijing Tours Guide.