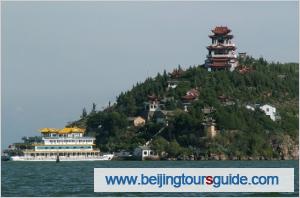 Erhai Lake Park takes advantage of Erhai Lake. It is located in the area of Tuanshan Mountain, and once was a royal deer ranch of the Nanzhao Kingdom. The Park was built in 1976. Climbing along the path upward to the mountain, you can see green pine trees, flowers like camellia, magnolia and azalea. On the top of the mountain are the Observation Pavilion and the Long Corridor, where you can overlook the lake of Erhai. From the spot, Erhai is just like a huge mirror, and the Mountain of Cangshan performs its barrier. At the shore, there are entertainment facilities such as the aqua park, swimming area, etc.
A clear night will provide you the best Dali. The big bright moon is mirrored on the lake. You will enjoy one of the most magnificent sights (Wind, Flower, Snow and Moon). The Erhai Moon is the perfection of Dali. Erhai is named after its shape and expanse. "Er" in Chinese means a human ear and "Hai" means a sea. Erhai Lake is a barrier lake formed after a fault foundering of the earth's crust. Erhai, the "sea having an ear shape", is the best place for enjoying some of the most perfect scenes, and Erhai Lake Park provides the best situation. From high points in the Park, it is easy for you to observe the outline of the Lake and the Mountain of Cangshan. The paths everywhere inside the Park are interesting sightseeing spots, too. You may find some old architectures hiding inside thick forest beside the paths.
The beautiful scenery of Erhai Lake Park is charming and attractive. There are steamers, sailing boats, flying birds, the Three Islets, the Four Sand Bars, the Five Miniature Lakes and the Nine Curvatures, with their reflections in the placid water, accompanied by local minority groups in bright-colored costumes on the shore or in fishing boats singing the praises of their life. The beautiful scenery makes you feel relaxed and happy. White snow over the green Cangshan Mountain and limpid water of Erhai Lake earned Dali the fame of "Jade Erhai and Silver Cangshan".
Prev:
Flower and Birds Market
Next:
Three Pagoda Temple