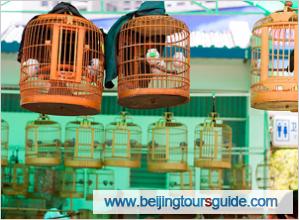 The Flower and Birds Market in Kunming is a typical Chinese civil market. As the name suggests, you may buy different kinds of flowers and birds here, but real items in the market go far beyond the range. Everyday stuff and things not so common can all be found in the market.
One of the featured souvenirs of Yunnan Province is the water tobacco. You may find the stuff everywhere in the market. Putting tobacco inside the pan and burning it, you breathe the smoke in through the pipe full of water. These pipes come in different sizes and are made of either metal or wood. Buying one in the market, you may be the only one holding such an odd but interesting souvenir in you neighborhood.
The Bird and Flower Market is a market for bargaining. Prices are highly set and the profit sometimes may exceed the cost for a large scale. So being prepared enough for talking and negotiating is essential. The result of doing so will be a reasonable price less than 50% of the asking price.
The Bird and Flower Market is a good place for choosing some Chinese-featured items. If you have plenty of time and get ready to face price negotiation, the Bird and Flower Market is the place waiting for you.
Prev:
Daguan Park
Next:
Erhai Lake Park