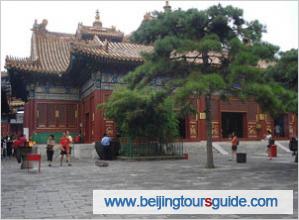 Lama Temple (also called Yonghe Temple, Yonghe Palace or Yonghe Lamasery), located at the northeast corner of Beijing, is the largest scale and best preserved lamasery temple in Beijing. Valuable Buddhist relics could be found here.
It was constructed in 1694 as the mansion of Prince Yongzheng and after Prince Yongzheng became Emperor Yongzheng, the mansion was transformed in two parts, half as lamasery and half imperial palace. In 1725, Emperor Yongzheng changed it wholly to his palace and endowed the name Yonghe Palace. During Emperor Qianlong's reign, it was completely converted into a lamasery. Since then, it was the supreme Buddhist temple throughout the country as the center for Qing government to manage lamasery affairs nationwide.
The Temple is distinct from common ones due to its imperial background and typical royal buildings. In 1981, it was open to the public as the place to hold religious activities and several Dalai Lama and Panchen Lama has come here for a sermon and a preach. In addition, it has become one of the hottest tourist destinations and has received heads or celebrities from 170 countries and two million visitors or so every year.

Triple Uniques
There are three unsurpassed artworks in the Temple. All the three present the exquisite application of woodcarving technology.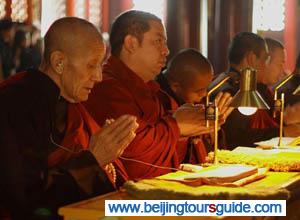 Monks at Lama Temple
One is the 500 Arhats Moutain. The mountain body is made by woodcarving and the 500 Arhats are carved in 5 kinds of metals: gold, silver, bronze, iron and tin. Peaks over peaks; pavilions, pagodas, pines, caves, bridges, steps spread finely in the mountain. The 500 Arhats were put in the mountain in accordance with its wavy terrain, each so vividly in different actions, expressions, wear. It is a rare art treasure and placed in the palace of Dharma-Cakra.
The other unique is Figure of Maitreya. It is located in Hall of the Boundless Happiness. It is the biggest single -wood made carving in China, 18 m high and another 8 m body under the ground. The Maitreya wears a gold crown in the head, a pearl and jade court beads in the neck, a flower basket in the waist and a yellow silk hatha in the arm, showing a grand spirit force. It is excellent without any damage through 200 years, which reflects the great carving craft and preservation technology at that time.
The last unsurpassed artwork is Figure of Sandalwood Buddha. In the sunset, the back light of the Buddha's would bright the prayer room due to a delicately inset bronze mirror. It is very magical. The Figure is situated in Hall of Zhaofo.


Entrance fee: 25RMB
Prev:
Bird's Nest and Water Cube
Next:
Yuan Ming Yuan Park