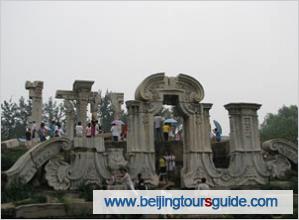 Yuan Ming Yuan Park, located in the northwest of Beijing, is called the Old Summer Palace but was more beautiful and larger. It was reputed as 'the garden of all gardens in the world'. It was a masterpiece of royal gardens; however, today only deserted remains could be seen for that it underwent two burn downs and ransacks respectively by the Anglo-French forces in 1860 and by the allied forces of the Eight Powers in 1900.
The Yuan Ming Yuan Park covers a total architecture area of 160,000 square meters 10,000 square meters larger than the Forbidden City. The construction began in 1709 during Emperor Kangxi's reign and completed 150 years later. The park was with exquisite Chinese characterized garden settings: about 200 manmade mountains with professionally designed cliffs, stones, and deep valleys; sections of ponds and lakes. The water area occupies half of the Park area.
Yuan Ming Yuan Park was a garden without a match in the world and was praised by Emperor Qianlong as the place where God of Heaven lives. It is a tragedy of humankind that the marvelous architecture was destroyed. Under the instructions of Premier Zhou Enlai, the Park was open to public to remind Chinese and the World of the history. Today, more and more tourists come there to pay a visit and most of them would feel a deep sorrow, mourning its brilliant history.
Prev:
Lama Temple
Next:
Ming Tombs