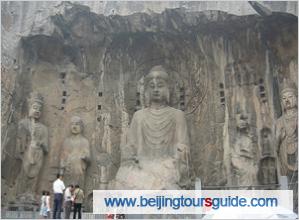 Located 12 km south of Luoyang city in Henan Province, Longmen Grottoes is one of the three most famous ancient sculptural treasure houses together with Mogao Grottoes in Dunhuang and Yungang Grottoes in Datong. There are more than 2100 niches, 2345 caves, over 100,000 Buddhist statues, 43 pagodas and some 3600 steles with valuable inscriptions, the largest number among Chinese Grottoes. The site was included in the UNESCO World Heritage List in November 2000, justified as 'illustrate the perfection of a long-established art form which was to play a highly significant role in the cultural evolution of this region of China'.
The grottoes were started its carving in Northern Wei Dynasty (386-557) which built 30% of the caves. Most caves are from Tang Dynasty (618-907), occupying 60%, while the remaining from other dynasties.
Fengxian Cave and Wanfo Cave built in Tang Dynasty are the most popular among the grottos.
Fengxian Cave
Fengxian Cave is the largest grotto of Longmen Grottoes, 36 m in width, and 41 m in length. There are 9 major Buddhist images in the cave, various in facial appearances and gestures, built according to the Buddhist rite.
The most impressive statue is figure of Vairocana Buddha (founder of Buddhism) sitting cross-legged on the eight-square lotus throne, located in the center of the grotto. 17.14 m high, Vairocana has a well-proportioned figure, a sacred and kindly gesture and an elegant smile, seemingly sharing his spiritual light with common people.
Wanfo Cave
Wanfo Cave is famous for its 15,000 small Buddha (4cm high each) statues chiseled in the southern and northern walls of the grotto. The cave has two rooms in front and back. The main Budda is Amitabha is seated on the double-layer lotus throne with calm and solemn face indicating exclusive ability and authority. The wall behind Amitabha is carved with 52 lotuses, each sitting or leaning one Boddhisattva in different expressions and postures, like a group of different young ladies. Besides, 6 dancers and singers are carved on the two side walls, lifelike and charming. All create a lively and cheerful atmosphere.
The Kwan-yin Buddha in the north side is the exquisite carving example of all the Kwan-yin images in Tang Dynasty, very beautiful and elegant in a 'S' shape body.
Prev:
Pagoda Forest
Next:
Zhangjiajie National Forest Park