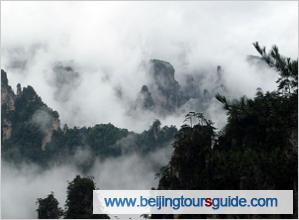 Zhangjiajie National Forest Park was the first established national forest park in China in 1982, located in Zhangjiajie City in northern Hunan Province, covering an area of 4,810 hectares. The forest coverage rate reaches 97.7% with 93 woody plant families of 517 species, over twice of the total in Europe; all the world's five largest plant classifications are included: Compositae, Orchidaceae, Leguminosae, Rosaceae, Poaceae. The average temperature is 12.8℃ year round, warm in winter and cool in summer. The air is fresh with high negative oxide ion which feels very comfortable for the body. In addition, there are more than 149 kinds of chordate animals in the park, among which the Golden Pheasant, Rhesus Monkey, Giant Salamander and Musk Deer are under national protection. Visitors could hear birds singing and see monkeys playing everywhere here.
The Park is famous for its unique natural sceneries, featuring grotesque peaks, crystal waters, deep and quiet valleys, dense forests, and abundant wild animals. It is said the floating Hallelujah Mountains seen in the film 'Avatar' were inspired from one of Zhangjiajie's peaks, now renamed officially as 'Avatar Hallelujah Mountain'.

The Yellow Stone Stronghold and Golden Whip Brook are the two most attractive spots in the forest park.
Prev:
Longmen Grottoes
Next:
Yellow Stone Stronghold (Huangshizhai)