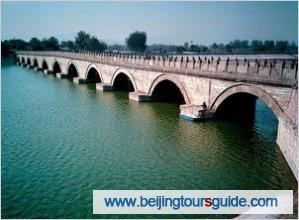 Lugou Bridge is the oldest segmented stone arch bridge in Beijing City. It is located in Wanping Country in the south west of Beijing. As far back as in 13th centrury, Lugou Bridge was world renowned and Marco Polo, the famous European traveler visited the bridge at that time and praise highly the bridge that it is unique in the world. Thus, Lugou Bridge got another name as Marco Polo Bridge.

Construction of the original bridge began in 1189 in Jin Dynasty and was completed in 1192. Then it experienced several times reconditions due to flood ruins. Lugou Bridge is best known mainly for 3 aspects.

One is the sight of 'Lugou Xiao Yue' (Morning Moon over Lugou). Early in Jin Dynasty, Emperor Zhangzong ranked the scene of Lugou Xiao Yue as 'one of Yanjing's eight attractions '(Beijing was called Yanjing before). At the end of the bridge stands a marble stele with the calligraphy inscription of Emperor Qianlong in Qing Dynasty reading 'Lugou Xiao Yue'. Just imagine, at the daybreak, when the moon is fading from the sky, the bridge looks so radiant and enchanting. You are immersed in a real fairyland then.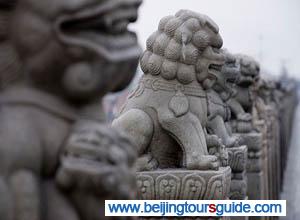 Many stone lions of different postures carved on Lugou Bridge baluster.
Second is its architecture characteristics beside the aesthetic features. Lugou Bridge is built of solid granite, 266.5 m in length and 9.3 m in width. There are a large central arch and ten smaller ones in flanks, each of which is installed by triangular iron pillars to prevent from flood and ice. On the head of each pillar stands a stone carved lion. However, the intriguing fact is that the lions are countless. On each big lion, there are many smaller lions on its head, back, paws or under its belly. The lions are different in sizes, gender and various in expressions, behaviors. The smallest are only several centimeters in length. Some lions hold their heads high, looking up at the sky; some fix their eyes down at the bridge floor; some face to face, seemingly chatting, some raise one ear higher, listening to the murmuring water or speaking with the passerby…. See if you can figure out the total number of the lions.

Third is its important role in China's modern history. Painful memories were left with the Chinese people. On July 7th, 1937, it is on the bridge that Japanese Kwantung Army started its war to conquer China, which is known for' the Lugou Bridge Incident'. At the same time, the Chinese began its eight- year –long Resistance War against the Japanese invaders. The war ended with the surrender of Japan in August 15th, 1945. Millions of Chinese were killed during the war and the bullets shot then are clearly seen in the wall of Wanping Country today.
Entrance fee: 10RMB
Prev:
Peking Man Site
Next:
Beihai Park