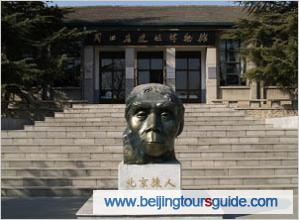 Peking Man Site is situated in Zhoukoudian of Fangshan District in Beijing, also called Locality One or Apeman Cave. Here tourists could see fossils of the Peking Man and other animal bones and stone wares from Paleolithic Age so as to explore the evolution and primitive life of our human ancestors.
In 1921, the habitat cave of Peking Man was discovered at Zhoukoudian and till 1929, archeologists had found three fossils of teeth and a fossil of crania of Peking Man as well as the primitive man's manufacturing tools and cinder remains because of firing. The discovery caused excitement around the world. In 1930, above the Peking Man Site, the fossils of Upper Cave Man were found who lived there 18,000 years ago. However it is a pity that the fossil samples of Peking Man and Upper Cave Man were lost due to war destroy. Since the founding of the New China, a lot of efforts have been made for the excavation of the site and many other fossils of hominid teeth, skull, animals and stone wares were discovered.
In 1953, the Peking Man Site Museum was open to public, displaying more than 3,000 cultural relics. The site was inscribed in UNESCO World Heritage List in 1987.
Entrance fee: 30RMB
Prev:
National Center for the Performing Arts
Next:
Lugou Bridge (Marco Polo Bridge)