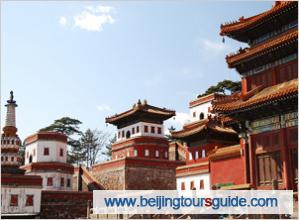 The Puning Temple is situated in mountains of Chengde City, Hebei Province. It is one of the famous "Eight Outer Temples" in Chengde. The Temple was constructed in 1755, when Emperor Qianlong dominated China. In order to celebrate the suppression of rebellion of Galdan, Junggar tribe, Emperor Qianlong invited the four troops that participated in the suppression to the Mountain Resort in October in the 20th year of the Qianlong reign. He dubbed leaders of the four troops, and ordered to build the Puning Temple.
The Puning Temple occupies an area of more than 23,000 square meters. The main structure in the temple is the Hall of Great Buddha. The hall is 36.75 meters high, and has six storeys and multiple eaves. The top of the hall is a gold-plated dome. The hall, full of power and grandeur, is a representative of the architectural style of Chinese temples and mosques. A Bodhisattva statue with thousands of hands and eyes is enshrined in the hall. The statue, 21.85 meters in height and 110 tons in weight, is carved out of wood and plated with gold. It sits on a locus throne of 2.22 meters high. The statue has 42 hands, two of which clamp together and the rest with different musical instruments in them. The statue, with its dignified manner, is one of the famous large-scale wood-carved Buddha statues in China. The Hall of Great Buddha emblematizes Sumeru, and the Hall of Day Light, the Hall of Moon Light on the two sides of the Hall of Great Buddha symbolize day and moon respectively. There are black, red, white and green pagodas and eight white high terraces on the four sides of the Hall of Great Buddha. All around the hall there are other Tibetan constructions, such as pagodas and terraces. Besides the Hall of Great Buddha, there are the Miaoyan Room and the Hall of Scripture Preaching, where Qing emperors listened to the preaching and had a rest.
Three stone tablets are preserved in the Puning Temple. The whole building complex of the Puning Temple mixed the artistic style for Han, Tibetan and Indian architectures, and formed the typical image of a Buddha World with Buddha statues as its main body, holding an important position in the history of Chinese architecture.
Prev:
Little Potala Palace
Next:
Sun Yat-sen Memorial Hall