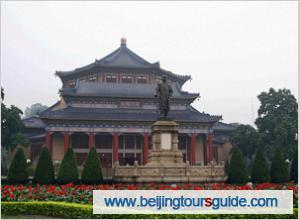 Sun Yat-sen Memorial is built to memorize Sun Yet-sen (also called Sun Zhongshan), father of modern China, the great revolution leader who overthrew the last Chinese feudal empire-Qing Dynasty and setting up a bourgeois democratic republic in China. It is really a majestic building in the typical traditional Chinese octangle style and was listed as one of the first class cultural relics in Guangdong Province.
Sun Yat-sen is popularly loved and esteemed by Chinese people, and the memorial construction was just donated by the Chinese home and abroad. The Memorial consists of a memorial hall and a courtyard, covering an area of 62,000 square meters. In front of the memorial hall stands the statue of Sun Yat-sen, and a golden slab with the inscription '天下为公' (all under heaven are equal) written by him is right above the front door. Inside the memorial hall, there are distinctive red pillars with the decoration patterns of trees and cloud, and lifelike cranes, presenting a magnificent scene. In addition, the audience house inside is outstanding among world famous architectures for its huge embedded sprung roof made of glass but with few echoes. The outside yellow walls, the red pillars and the blue glazed roof titles shine under the sun, creating a resplendent and solemn atmosphere. Back of the hall erects on the top of Yuexiu Mountain the Zhangshan Monument, straight into the sky.
There are wheel chairs, crutches and baby carriages inside the memorial hall. Everyone is equal and cared, just as the words '天下为公' says.
Prev:
Puning Temple
Next:
Yuexiu Park