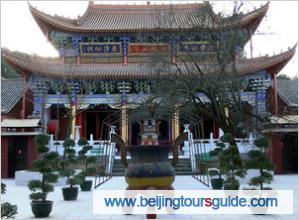 Qiongzhu Temple, meaning Bamboo Temple, is located in Yu'an Mountains in the Northwest part of Kunming, seven kilometers away from the center of the city .It is for no doubt the most famous temple in Kunming.
About the temple, there is an interesting story. In Dynasty Tang (618-907), two local brothers were hunting animals in the area and found a rhinoceros. They chased the animal into the Mountain of Yu'an, and surprisingly found a monk. But when they got close to him, the monk suddenly turned into a bamboo. The brothers tried to pull it out of the ground, but failed. The next day they came to the place and terribly found a forest of bamboo. The brothers were so shocked that they believed this was a sign from Buddha. They built a temple here to memorize the incident. And later the temple became strong and attracted Buddhism followers around the region. That is the legend of the Qiongzhu Temple, and the name came directly from the story.
For nearly 1,000 years, Qiongzhu Temple has been burnt to ashes several times. After being destructed, the Temple got a rebirth. The present architecture mostly dates from Dynasty Qing. That reconstruction gave the Temple's most outstanding feature. Statues of the 500 Luohans (Buddhist Arhats) were sculpted by the great artist, Li Guangxiu. The statues were made for seven years during the time of Emperor Guangxu (1875-1909). In that time, the Temple was repaired, and Li Guangxiu, a famous folk clay artist from Sichuan Province, took his apprentices to Kunming to perfect the architecture and decoration of the Temple. The Luohans he made stand beside the central Buddha in six rows, with three levels in each row. Each Luohan is about one meter tall. Each of the 500 Luohans has a different expression and gesture. They are the treasure of the Temple. Chinese couplet is another feature of Qiongzhu Temple. Masterpieces such as Dandang of the late Ming Dynasty and Li Genyuan of modern time are collected and showed here. Some oldest ones can date back to over one thousand years ago, in Dynasty Tang.
Other places in the Qiongzhu Temple are attracting tourists, too. Four Guardian Kings in the entrance hall; the three large statues of Buddha in the main temple palace and two majestic 450-year-old cypress trees that stand in the forecourt.
As the most important sightseeing point in Kunming, you cannot miss the beauty of the Qiongzhu Temple.
Prev:
Stanley Market
Next:
Stone Forest