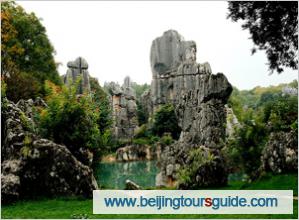 The Stone Forest lies about 80 miles to the southeast of Kunming. It was the symbol of Yunnan tourism. The Stone Forest has long been one of the most famous scenic spots in China. Everyday, tourists from all over China come to the site and enjoy the beauty of nature.
270 million years ago, during the Paleozoic era, a geological movement began and came to the birth of the Stone Forest. The movement of tectonic plates altered the earth's crust, causing the sea to recede and its limestone bottom to appear, thereby forming land. Due to the constant seeping of rain through the cracks in the limestone, some of the stone formation dissolved and the fissures broadened, producing a group of great sculptures of different shapes, all molded by nature.
The Stone forest's symbol is a huge stone with two Chinese characters, Shilin (Stone Forest) engraved on it. Among the scenic sights is the "Sword Peak Pond" with jadeite-colored water so clear that one can see the bottom of the pond. Other astonishing sights include "Figure of Ashima", "Shi Ba Xiang Song" and "Lotus Peak". The splendor of the Stone Forest is enhanced by the local customs of the native Sani people, part of the Yi minority. These people are talented in art. They have some activities concerning with art in production. Singing in couple is one of the forms, and the Stone Forest is a place for such activities.
The Stone Forest is a classic sightseeing point in the area. It is a must on your itinerary in Yunnan Province.
Prev:
Qiongzhu Temple
Next:
Golden Temple