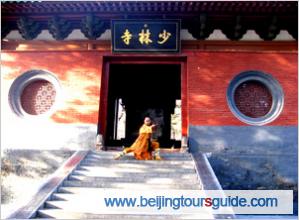 If you are interested in Chinese Kung Fu, Shaolin Temple is best destination. Built on the slopes of Mt. Shaoshi and surrounded by jungles and forests (lin in Chinese) ,it got the name. The temple is renowned for its Shaolin Kung Fu; people usually link Shaolin and Kung Fu without thinking a second.
Built in 495A.D, Shaolin Temple has a long history. It is thought to be the origin of Zen Buddhist theory in China spread from India. Legend says that it was Dharma, the founder of Zen, who created the Shaolin Martial Arts, for the purpose of driving the fatigue away, caused by the special sitting gesture when chanting sutra.
Stepping into the temple, you find yourself in a world of selected historic sites and antiques with artistic building, sculptures, frescos, bells as well as exquisite handrails, inscriptions, pagodas, stone steps. In 2010, Shaolin Temple and its famed Pagoda Forest were inscribed into the UNESCO World Heritage.
Prev:
Nine-Dragon Screen
Next:
Pagoda Forest