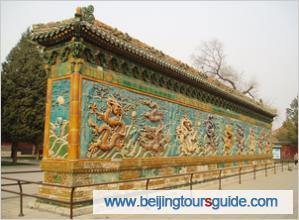 The Nine-Dragon Screen was built in late Ming Dynasty (1386-1644), opposite to the gate of Emperor Zhuyuanzhang palace. The Screen is one of the three antique royal Nine Dragons Screens with the other two in Forbidden City and Beihai Park in Beijing, and is the largest and best preserved among the three.
It measures 8 meters high, 2.02 meters thick and 45.5 meters long. Nine vivid dragons are flying on the huge green as if they are live. Chinese dragons are the symbol of emperors and were put on their clothes, crowns, thrones, palaces and other relative things, which represent the sovereign authority.
The Screen could be divided into roof, body and pedestal. The body of screen faces are carved in moon and sun patterns, water and grass, a cloud sea and a green wave and made of 426 colored glazes. Dragons are considered by Chinese to have the ability of calling the wind and controlling the rainfall. The pedestal is rectangular shaped and engraved with the images of oxen, dogs, deer, rabbits and other animals in its middle section. The roof is covered with colored glazes. The whole screen is in a suitable proportion with harmonious pictures, and elegant and dignified style. Any Datong visitors won't miss this attraction.
Prev:
Yungang Grottoes
Next:
Shaolin Temple