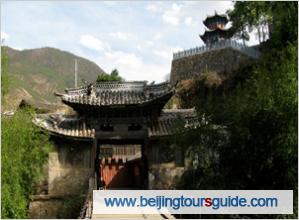 Pouring down from the Qinghai-Tibet Plateau, the Yangtze River abruptly takes its first turn to the north at Stone Drum Town (Shigu Zhen) of Lijiang, and thus forming the famous First Bend on the Yangzi River. Reared by verdant mountains, the Stone Drum Town has always been the fortress to be seized by the strategists.
The Stone Drum Town is named after a drum-shaped marble plaque (diameter 15 m, thickness 0.7 m). This monument memorializes the victory and subsequent spread of power of Baizhuang, the Tusi of Mu Family of Lijiang, during the Jiaqing years of the Ming Dynasty (1548 - 1561). This historically relevant stone monument was erected during one of the earliest periods in Lijiang.
To the right of the monument is a lovely willow forest at its bank; while on the left flows the Chongjiang River. Spanning this river is the 17m long Tiehong Bridge, constructed of boards paved over iron chains, and with similar iron chains serving as fences on both sides.
Stone Drum Town is a historically important town on the ancient trade route for tea and horses between inland provinces and Tibet. The town still features a flourishing trade fair, currently held every three days.
Stone Drum Town is a bustling ethnic community, with Naxi, Tibetan, Bai, Yi, Miao, and Hui people all inhabiting the town. The Naxi are the main minority group, and their unique culture is well represented through their traditional lifestyle and centuries-old fashion of dressing. The women in Stone Drum Town do a special style of make-up. They usually wear blue hats and long gowns with white ribbons binding their waists.
Stone Drum Town is a nice place for you to learn more about Lijiang and nearby regions.
Prev:
The First Bend of the Yangtze River
Next:
Wood Mansion