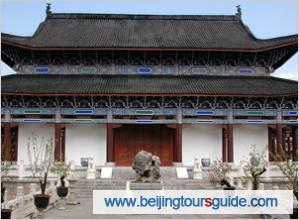 "Wood Mansion" is another name of Mu Family Mansion in Lijiang. The Mansion is located in the old city of Lijiang. The Lijiang Old City had been built under the lead of Mu ancestors of past generations.
The Mufu (Wood Mansion) is Lijiang's ancient ruler Mu's official residence and where he received his officials. Governor Mu order the builders of the mansion to design it in the way the great Forbidden City did. Thereby, Wood Mansion became the largest complex in Lijiang. The complex is the crystal of Naxi people's brilliant skills in architecture and fine arts.
Wood Mansion had been used for 22 generations of Mu family. When the clan chief of Mu moved here, the clan became the most powerful and prestigious in the region, reaching a climax during the collapse of the Ming Dynasty.
The gardens are particularly impressive with their azaleas and orchids, and this is a good place to retreat to if the crowds in the alleys outside become too wearying. The plain of the residence is characterized as the combination of central courtyard and inwards houses.
Wood Mansion is a must-see for you to know more about the local history in Lijiang. The architecture is also a part of attractions.
Prev:
Stone Drum Town
Next:
Shuhe Naxi Village