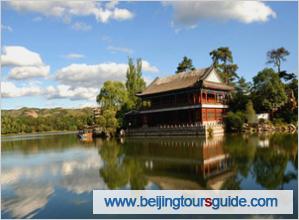 Chengde Summer Resort, is located north of Chengde, Hebei, 230 kilometers away from Beijing. It was first built in 1703, when Emperor Kangxi dominated the Qing Dynasty.Chengde Summer Resort cost about 90 years to construct. It covers 564 hectares. The Resort is the largest imperial garden in China.
Chengde Summer Resort is divided into two sections: the palace area and the scenic area. In the palace area, architecture is very unique, and similar to the residential houses in North China. Black bricks, rock steps and the courtyard covered with pine trees look peaceful and elegant. The Main Palace of the palace area is Pine-Crane Hall, Pine Soughing Valley and East Palace. The Main Palace is comprised of the Front Court and the Back Imperial Bedroom. The main hall of the Front Court, all made of nanmu, was the place where all important ceremonies were held during the Qing emperors' stay in the Summer Resort. The Back Imperial Bedroom is comprised of Yanbo Zhishuang Hall, where the emperors lived and dealt with state affairs, and Yunshan Shengdi Tower, where the emperors and empresses appreciated the beautiful scenery.
The Scenic Area contains Lake Zone, Plain Zone and Mountain Zone. All of these scenic areas were designed following detailed real scenic places in China. And some of the construction materials were transported from the production area, such as Taihu Stone from the Lake of Taihu. These scenic areas show different styles of beauty. The changing seasons give time for the change of views, and emperors were here in the areas to enjoy the beauty when they didn't do their management works.
Each year in the summer, the Qing emperors would come and live in the Chengde Summer Resort for about five to six months. Nowadays, once summer starts, most people think of the Resort to spend their vacations.
Prev:
Karakuli Lake
Next:
Little Potala Palace